The Suns and Wizards have issued press releases confirming that the Bradley Beal trade is official. Word of the agreement first broke last Sunday afternoon, with further details trickling out on Monday and Thursday.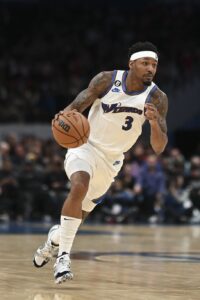 The Wizards' trade with the Pacers that moved Washington up from No. 8 to No. 7 in Thursday's draft is also being folded into this transaction, making it a three-team deal. The full terms of the blockbuster deal are as follows:
Suns acquire Beal, Jordan Goodwin, and Isaiah Todd.
Wizards acquire Chris Paul; Landry Shamet; the draft rights to Bilal Coulibaly (No. 7 pick); the Suns' second-round picks in 2024, 2025, 2026, 2027, and 2030; first-round pick swaps in 2024, 2026, 2028, and 2030; and cash (approximately $3.5MM; from Suns).
Pacers acquire the draft rights to Jarace Walker (No. 8 pick), the Suns' 2028 second-round pick, and the Wizards' 2029 second-round pick.
Because the Suns' 2028 second-rounder, originally committed to the Wizards as part of the Beal trade, is being rerouted to Indiana, all three teams satisfy the NBA's "touching" rules for three-team deals.
The Wizards have now traded away their top two leading scorers from the 2022/23 season on consecutive days, having formally finalized their deal sending Kristaps Porzingis to Boston very early on Friday morning.
Wizards owner Ted Leonsis and new president of basketball operations Michael Winger issued statements within today's trade announcement, wishing Beal well after he spent the first 11 years of his NBA career in D.C.
"Bradley leaves a legacy and impact that will continue to be felt by those he helped during the 11 seasons we watched him develop into a cornerstone of our on-court and off-court efforts," Leonsis said. "We appreciate and respect the place he holds in our franchise's history and we're proud that he established himself as a star player, community leader and family man in Washington, D.C."
"From afar, I've admired Bradley as an All-NBA player and a difference-maker in his communities," Winger said. "We were pleased to work together to find a deal that moved us closer to our goal of eventually competing for championships while getting Bradley to a place where he'll be able to do so immediately. We wish Bradley and his entire family the best of luck in Phoenix and thank him on behalf of the organization, the fans and the city of Washington for his immeasurable contributions."
The Suns issued a statement of their own expressing excitement about the acquisition of Beal.
"We are thrilled to welcome Bradley, Jordan and Isaiah to the Phoenix Suns as we continue to build one of the premier organizations in all of sports," Suns owner Mat Ishbia said. "Bradley Beal is one of the best players in the NBA and brings so much to our team including incredible work ethic, great character, and the mindset of a champion. Jordan and Isaiah add talent and versatility to our roster that will continue to make this team among the league's best. We are committed to bringing an NBA championship to Phoenix and I could not be more excited about how this organization is coming together heading into the upcoming season."
The Wizards have already agreed to a separate trade that will send Paul on to Golden State for a package headed by Jordan Poole, but referred to Shamet within today's press release as someone who will be a "valuable contributor to our organization," which suggests they plan to hang onto him.
For more details on the Beal trade, you can read our original story here and our Thursday follow-up here. We also have separate full stories detailing the Wizards' move up to No. 7 and their trade agreement with the Warriors involving Paul and Poole.