The NBA has fined Sixers star James Harden $100K, the league announced today in a press release (Twitter link).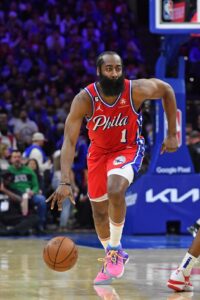 The fine is in response to Harden's recent comments in which he referred to Sixers president of basketball operations Daryl Morey as a "liar" and said he had no intention of being part of an organization that Morey is a part of, as well as a follow-up interview in which he stated that he thinks his relationship with the franchise is "beyond repair."
"(Harden) has been fined $100,000 by the NBA for public comments on August 14 and 17 indicating that he would not perform the services called for under his player contract unless traded to another team," the NBA's statement reads. "The league's investigation, which included an interview with Harden, confirmed that these comments referenced Harden's belief that the 76ers would not accommodate his request to be traded."
Chris Haynes of Bleacher Report and TNT first reported (via Twitter) that Harden was on the cusp of receiving a substantial fine from the league, while ESPN's Adrian Wojnarowski (Twitter link) was the first to report it would be worth $100K.
After Harden called Morey a liar during a promotional appearance in China, the NBA launched an investigation to determine what the former MVP's comments were referring to and to ascertain whether he intends to hold out this fall.
There had been some speculation that Harden was suggesting he and the Sixers reached a handshake agreement during his 2022 free agency on a contract to be finalized in 2023 and that Morey reneged on that agreement. If the NBA found proof of such an agreement, the 76ers would have faced a significant punishment of their own.
However, there has been no indication that Harden was talking about his contract situation when he said Morey lied. As Shams Charania of The Athletic reports, Harden informed league investigators that he called Morey a liar because the Sixers president told the veteran guard he'd be traded "quickly" after he asked to be moved in June.
That obviously hasn't happened, and recent reporting has suggested that Philadelphia is no longer engaging in trade talks involving Harden. But since the Sixers have no obligation to trade a player who asks to be moved, they're not in violation of any league rules and won't face any discipline from the NBA at this time.
On the other hand, as Bobby Marks of ESPN tweets, the league has the ability to fine a player a maximum of $100K (up from $50K in the previous CBA) for "conduct or statements prejudicial or detrimental to the best interests of basketball." The NBA apparently determined that Harden's statements fit that bill.
According to The Athletic, Sixers owner Josh Harris said on Monday that he's working to convince Harden to remain in Philadelphia, but isn't closing the door on a trade.
"I respect James. I want to, obviously, accommodate what he wants," Harris said. "At the same time, I have to think about a championship-contending team, what we can get back. I'd love to convince him to stay. I understand that that's not what he wants to do right now.
"I'm going to keep working to resolve it in a way that everyone can live with and is positive for everyone, whatever that resolution is. … I respect him as a basketball player, and as a person. It's back to, these are, you're dealing with people, right? And you've got to be there. We'll see where it comes out."