The Hawks are in the early stages of a rebuild after years as a modest contender in the Eastern Conference. Given new general manager Travis Schlenk's desire to preserve cap flexibility, you can imagine the franchise will be particularly prudent when free agency resumes in July.
As things stand, the club has just $70.5MM on the books for next season, a figure that drops to $60.2MM if you subtract a pair of player options that we'll discuss below.
The Hawks will have little incentive to keep their payroll that tight given the salary floor projected in the $85MM range but they'll be dead-set against committing to inconsequential long-term deals unless it comes in the form of a trade for a significant asset.
Dewayne Dedmon, C, 28 (Up) – Signed to a two-year, $12.3MM deal in 2017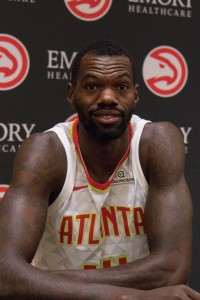 After years as a journeyman, Dedmon began to make a name for himself as a surprisingly productive reserve for a legitimate contender in San Antonio. While he never played enough minutes to make it onto the mainstream radar, he's a value add that landed in an ideal environment in Atlanta. Though Dedmon has stepped up in the biggest opportunity of his career thus far, he doesn't have much of a role with the Hawks long term given the fact that, at 28 years of age, he doesn't really fit their timeline. Expect him to turn down his player option and hit the open market in search of a raise from his current $6MM salary. Dedmon could be a double-double talent for any team that really wanted him to be but it's more likely that he settles in as a go-to frontcourt bench option with his stellar career per-36 rates.
Malcolm Delaney, PG, 29 (Down) – Signed to a two-year, $5MM deal in 2016
It's hard to imagine that Delaney will generate much interested as a restricted free agent considering his age and 5.7 career point-per-game average but that doesn't mean the franchise won't look to bring him back on a short-term deal if they simply need bodies that the coaching staff is familiar with. If he's not back in Atlanta, however, he may have a hard time landing a gig.
Mike Muscala, 27, C (Up) – Signed to a two-year, $10MM deal in 2017
Having carved out a role for himself as a decent defensive big man with a plus three-point shot, Muscala could conceivably draw interest from other teams if he turned down his player option for 2018/19. In reality, however, it's hard to imagine Muscala definitively emerging from a crowded center market to land a deal better than his current one. Muscala isn't a spring chicken by NBA standards but prolonging a free agency decision until 2019, when he's 28 years old, wouldn't be an awful idea.
Photo courtesy of USA Today Sports Images.