On Tuesday night, Lakers forward LeBron James achieved a feat many of us had once thought impossible. The 19-time All-Star surpassed Hall of Fame center and Lakers legend Kareem Abdul-Jabbar's all-time regular season scoring record of 38,387 career points.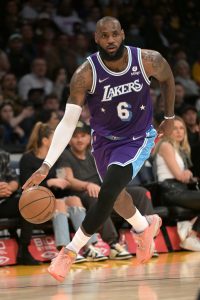 With 10 seconds left in the third quarter of a nationally televised game against the visiting Thunder on Tuesday night, James scored his 35th and 36th points, which moved him into sole possession of the league's scoring record (video link via Bleacher Report).
Play was stopped for a special mid-game presentation, as Abdul-Jabbar and NBA commissioner Adam Silver were on hand to congratulate the four-time champion and four-time MVP.
James actually passed Abdul-Jabbar in historic cumulative scoring last year, lapping the six-time MVP's total combined regular season and postseason points.
Now, LeBron possesses both that record and this regular season mark. He looks poised to significantly widen his lead in both categories, given that he's averaging an impressive 30.2 PPG this season and recently expressed a desire to play for a few more years.
Presumably, the four-time MVP's next goal is simply making the 2022/23 postseason, which is no sure thing. L.A. is currently the No. 13 seed in a bunched-up West, behind Oklahoma City.