SEPTEMBER 26: Oubre has officially signed with the Sixers, the team confirmed today in a press release. Philadelphia announced in the same release that it has waived Marcus Bagley. The corresponding move was necessary because the team had a full 21-man roster.
---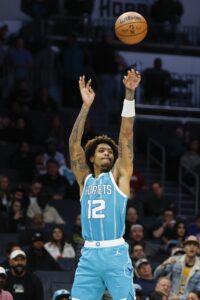 SEPTEMBER 18: Veteran forward Kelly Oubre is signing a one-year contract with the Sixers, ESPN's Adrian Wojnarowski tweets.
Oubre was one of the last prominent free agents on the market. He struggled to find a contract to his liking in free agency despite averaging a career-best 20.3 points to go along with 5.2 rebounds, 1.1 assists and 1.4 steals per game in 48 appearances (32.3 MPG) last season with the Hornets.
He's signing for the veteran's minimum, Derek Bodner of PHLY Sports tweets. Having been in the league for eight seasons, Oubre is in line for a salary of $2,891,467.
Oubre spent the last two seasons in Charlotte and has also had stints with Washington, Phoenix and Golden State. In 527 career games, he has averaged 12.8 points in 25.8 minutes. The main drawback in his offensive game remains his spotty 3-point shooting (33.0% for his career, 31.9% last season).
The addition of Oubre will give the Sixers a full 21-man camp roster. If his deal is fully guaranteed, it would give Philadelphia 14 players on fully guaranteed contracts.
Given the uncertainty of James Harden's status, Oubre could be in line for major minutes. Philadelphia has a projected lineup of Harden, Tyrese Maxey, Tobias Harris, P.J. Tucker and Joel Embiid. Their wing depth consists mainly of Furkan Korkmaz, Danuel House and De'Anthony Melton.
The Sixers were not among the teams rumored to be interested in Oubre. The Cavaliers, Mavericks and Heat were mentioned, but this could be an even better opportunity for him.