6:05pm: The trade is now official, the Nets announced in a press release. Brooklyn received the draft rights to David Michineau, who currently plays for Napoli Basket in Italy's Lega Basket Serie A, to complete the deal.
---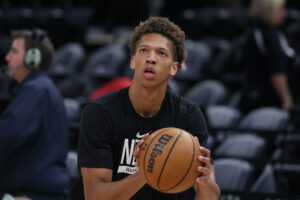 3:39pm: The Kings and Nets have finalized an agreement, a league source tells James Ham of The Kings Beat (Twitter links). Ham confirms that Sacramento will end Burton's 10-day contract a little early to open up a roster spot for Edwards.
---
2:54am: The Kings and Nets are close to reaching an agreement on a trade that would send forward Kessler Edwards to Sacramento, reports Shams Charania of The Athletic (Twitter link).
According to Adrian Wojnarowski of ESPN (Twitter link), the deal will send Edwards and cash to Sacramento. It's essentially a salary dump, since moving off Edwards' minimum-salary contract will save the Nets approximately $8MM in salary and tax money in addition to opening up a roster spot, per Wojnarowski.
As Wojnarowski notes, Edwards must sign off on the trade, since the terms of his deal with Brooklyn give him the ability to veto a trade. He intends to approve it, according to Woj (Twitter link).
The 44th overall pick in the 2021 draft, Edwards signed a two-year contract with the Nets this past offseason after spending his rookie year on a two-way deal that includes a second-year team option. He showed promise in a limited role last season, averaging 5.9 PPG and 3.6 RPG on .412/.353/.842 shooting.
However, Edwards hasn't seen regular playing time in 2022/23, logging 79 total minutes across 14 contests. He has scored just 15 points on 6-of-24 (25.0%) shooting for the season.
It's unclear whether Edwards will finish the season with Sacramento. According to Wojnarowski, the club's plan for now is to give him the opportunity to play for its G League team, the Stockton Kings, but Woj says his future remains "fluid" with two days to go until the trade deadline. It sounds like if Sacramento needs to open a roster spot at the deadline, Edwards would probably be the odd man out.
The Kings technically have a full 15-man roster for now, but one of those spots is occupied by Deonte Burton, who is on a 10-day contract that expires Wednesday night. His deal may be terminated a little early to accommodate the acquisition of Edwards.
As for the Nets, they'll create a trade exception worth approximately $1.6MM (Edwards' salary), but the financial savings and the newly opened roster spot will likely end up being more valuable than that exception.