Free agent guard Troy Daniels, a seven-year veteran, has spent every season of his career on an NBA roster since going undrafted in 2013. After signing a summer league deal with Charlotte as a rookie to jump-start his career, he's since made stops with seven teams — the Rockets, Timberwolves, Hornets (again), Grizzlies, Suns, Lakers, and – most recently – the Nuggets.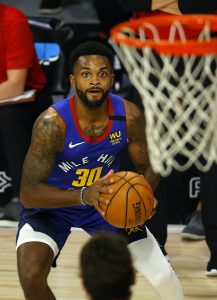 Even for Daniels, who's grown accustomed to adjusting to new circumstances, 2020 has been an unusual year. In addition to stints with both the Lakers and Nuggets, Daniels – like others around the world – has had to navigate the coronavirus pandemic, adapting to the habits of wearing a mask and social distancing while staying ready for his next professional opportunity.
"It's been a roller coaster ride, to say the least," Daniels told Hoops Rumors in a phone interview. "A lot of ups and downs throughout the whole year, not just the pandemic. Literally everything. Me leaving the Lakers, heading to Denver; roller coaster ride for sure. 
"Sometimes you just have to roll with the punches. My career has been built on that — being traded twice in one year, people not believing in me coming out of college — I've always risen to the top. I think my career's been built on that, and I think even this year's a testament to how I could overcome anything."
Daniels remains an unrestricted free agent, waiting for a call to start his eighth NBA season. He's known for being an elite shooter, averaging 6.6 points per game on 39.5% shooting from three-point range over the course of 339 career games. Perhaps his best season came in 2017/18, when he averaged 8.9 points and 20.5 minutes in 79 contests with the Suns.
Last season, Daniels signed with the Nuggets in March (a week before the league went on hiatus), playing five games with the club in the Orlando restart and another six in the playoffs.
Before joining Denver, Daniels spent half the season with the eventual champion Lakers, appearing in 41 games for the club. He earned the respect of LeBron James and Anthony Davis during his stay in Los Angeles, consulting both superstars on his decision to eventually leave the team and join the playoff-bound Nuggets.
Both the Lakers and Nuggets — who competed against each other in the Western Conference Finals — had deep backcourts. As a result, Daniels didn't receive significant playing time from either club, but the opportunity to compete for a title was too good to pass up for the former VCU standout.
With the 2020/21 regular season around the corner, Daniels is one of several veteran players still available on the open market. The 29-year-old told Hoops Rumors he feels he can help a team seeking a "great locker room guy" who can provide stability and floor-spacing in the backcourt.
"I shoot the ball at very high level, at the highest level in the sport," Daniels said. "And also [I'm] just a guy that's not getting into too much trouble or anything like that. I'm not going to challenge the front office decisions or anything of that nature. I'm just a guy that comes in, gets his work in, helps the young guys out and I'm out of there. Really your ultimate vet, a pro's pro. I've been doing that my whole career and even in college. I feel like I've built my career on being a pro's pro."
Daniels' on- and off-court contributions have made an impression on his peers around the league. This past weekend, Jamal Crawford — one of the NBA's most highly-regarded veterans — posted a message in response to a video of Daniels working out: "One of the best shooters in the NBA period. Great attitude, worker, team guy. True vet!"
Daniels also spent a significant amount of time improving his body this offseason, working to eat healthier, tracking his calories and maintaining a disciplined training routine.
"My focus [this year] has been on being in a lot better shape than usual," he said. "In previous training camps, I'm usually in shape, but I'm not in true game-shape. It's especially hard to get in that game-shape. You can't be in game-shape unless you're actually playing the games, but I wanted to be over and above for this year."
While getting into world-class physical shape has been a priority, Daniels has made an effort not to take the mental side of things – both on the court and off – for granted, and is focused on keeping a positive mindset as he prepares for his next opportunity.
"You could go to a gym and do all of that work, but if your mind's not right or your head's not in the right space, then [your production] will never be to the extent that you want it to be," Daniels explained. "And, you know, meditating, taking at least an hour to have a quiet room, making sure you're in the right space, being positive about things even if you don't want to be — that gets me through the day. That gets me through the year across the board for everything.
"My mindset is what helps me shoot at a high level. I have to go into every game knowing that I might not play this game. But if my number gets called, I'm gonna make sure I'm ready and my mind is right, or I'm cheering my teammates on. Those types of things get you in the space needed to perform at a high level."
Through each of the highs and lows in his career, plus any uncertainty that's come with it, one thing has never changed in Daniels' approach to success: staying prepared.
"It's very, very important to stay ready," he said. "Even if you're in the league right now, that should be your job. There are only a handful of superstars in the NBA. The rest are guys that are role players. So you have to always be ready to go when your number's called, even if you're playing 15 minutes, 20 minutes or whatever the coach asks you to do. That's something that I've personally built my career on: always being ready. I've never had the luxury to know where I want to play, but I've always had that luxury in my mind to say, 'Hey, when I do get out there, I'm gonna be ready'. That's just how I train."
You'd be hard-pressed to find someone who questions Daniels' passion, focus or commitment. Despite his immediate future being unclear, one thing is for certain: when the call does eventually come his way, it's safe to say he'll be ready.
Photo courtesy of USA Today Sports Images.