Over the next several weeks, Hoops Rumors will be breaking down the 2016 offseason for all 30 NBA teams, revisiting the summer's free agent signings, trades, draft picks, departures, and more. We'll evaluate each team's moves from the last several months and look ahead to what the 2016/17 season holds for all 30 franchises. Today, we're focusing on the Chicago Bulls.
Free agent signings:
Dwyane Wade: Two years, $47MM. Second year player option.
Rajon Rondo: Two years, $27.397MM. Second year partially guaranteed.
Isaiah Canaan: Two years, minimum salary. Second year partially guaranteed.
Camp invitees:
Trades:
Draft picks:
1-14: Denzel Valentine. Signed to rookie contract.
2-48: Paul Zipser. Signed for four years, $3.832MM. Third year non-guaranteed. Fourth year team option.
Departing players:
Other offseason news:
---
Check out our salary cap snapshot for the Chicago Bulls right here.
---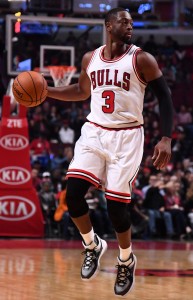 The Bulls shook up the league several times this summer. Now we'll see if they can do it once the season begins.
The most shocking move, of course, was the one that brought Dwyane Wade home to Chicago. A legend in Miami and an indispensable part of that city's sports foundation, Wade found his relationship with the Heat front office souring for financial reasons. For years, Wade played for less than his market value to give the team enough cap room to add LeBron James and Chris Bosh. But he grew increasingly frustrated with a franchise that was willing to give a maximum contract to Hassan Whiteside, but not to him.
So Wade began shopping his services around the league. The move was widely dismissed as a negotiating ploy — until July 6th, when the 13-year veteran announced that he was taking his talents to Chicago. Wade, whose cousin was killed in August by stray gunfire in the city, said basketball was only part of his motivation for wanting to return to his childhood home.
"Now I'm back in the city of Chicago — I'm back for a reason," he said. "I played 13 years in Miami. Now I'm back in the city, let me see what I can do as one person to help lend my voice and help shed light on the tragedy that's going on and find a solution to start the process of making change."
Before Wade was in their plans, the Bulls made headlines with a blockbuster deal in June, sending former MVP Derrick Rose and Justin Holiday to the Knicks in a trade that brought back Robin Lopez, Jerian Grant and Jose Calderon. Many factors led to the decision to part with Rose, but among them were an injury-plagued past, his impending free agency next summer and an uncomfortable fit with backcourt partner Jimmy Butler.
The Bulls filled the void at point guard by signing free agent Rajon Rondo, last season's league leader in assists, to a two-year contract worth $28MM. After agreeing to the deal, Rondo called the Bulls a "great organization with pieces around me that I'm excited about."
Nearly as significant were the moves that the Bulls didn't make. They held onto Butler despite aggressive attempts by the Timberwolves and Celtics to swing a deal on draft night. The franchise also kept coach Fred Hoiberg, who many thought was on the hot seat after missing the playoffs and being the target of a much-discussed locker room rant by Butler.
But Hoiberg can't feel too safe as he tries to reconstruct a team that was hit hard by free agent losses. Starting center Joakim Noah, whose season was cut short by a separated shoulder in January, accepted a four-year, $72MM offer to join Rose in New York. Fellow big man Pau Gasol headed to San Antonio for $30MM over two seasons.
Lopez will take over at center, with Nikola Mirotic as the likely starter at power forward because of his 3-point range. Taj Gibson, Bobby Portis and Cristiano Felicio will all be in the mix for playing time. Gibson represents the Bulls' next major roster decision, as he is eligible to receive a veteran's extension. He averaged 8.6 points and 6.9 rebounds in 73 games last season, but enters the final year of his contract making just $8.95MM. He could be looking at a substantial raise in free agency if the Bulls don't re-sign him. Fourth-year swingman Tony Snell, who averaged 5.3 points in 64 games a year ago, is eligible for a rookie-scale extension through the end of October.
Chicago passed up a chance to move up in the draft in a potential Butler deal and settled for its own 14th pick, which it used on Michigan State's Denzel Valentine. The 6'6″ shooting guard will help make up for the loss of Mike Dunleavy Jr., who was traded to Cleveland to help clear cap space for the Wade signing. With their second-round selection, the Bulls took 6'8″ German swingman Paul Zipser, who seems like a good bet to make the team after getting two guaranteed seasons on his rookie contract.
With just seven players in camp who were on the roster when last season ended, continuity will be a major issue for Chicago. Another will be outside shooting, which neither Butler, Wade or Rondo particularly excels at. Hoiberg promised that floor spacing would be an important part of his coaching philosophy when he accepted the job in June of 2015, but he didn't have the shooters to make that work last season and this year's group might be even worse.
It's up to Chicago's new version of a Big Three to prove that their unique skills can be effective against defenses that don't have to worry much about guarding the 3-point line. If they can, it will be a happy homecoming for Wade and a return to the playoffs for the Bulls. If not, it could mean another shakeup in midseason and an early exit for Hoiberg.
Salary information from Basketball Insiders used in the creation of this post. Photo courtesy of USA Today Sports Images.