Over the next several weeks, Hoops Rumors will be breaking down the 2016 offseason for all 30 NBA teams, revisiting the summer's free agent signings, trades, draft picks, departures, and more. We'll evaluate each team's moves from the last several months and look ahead to what the 2016/17 season holds for all 30 franchises. Today, we're focusing on the Houston Rockets.
Free agent signings:
Pending restricted free agents:
Camp invitees:
Contract extensions:
Trades:
Draft picks:
Departing players:
Other offseason news:
---
Check out our salary cap snapshot for the Houston Rockets right here.
---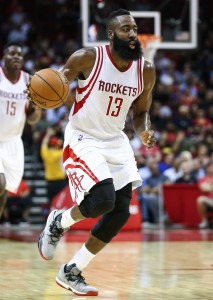 It's easy to forget, considering all the changes the franchise has made over the past year, that the Rockets reached the Western Conference Finals in 2015. They were considered one of the elite teams at this time last year but their season fell apart quickly after a slow start. Right now, it's difficult to say whether their current roster is any better than the dysfunctional group that finished .500 and barely qualified for the playoffs last season.
When all the smoke cleared this summer, the new-look Rockets headed into training camp with two clearcut leaders: franchise player James Harden and coach Mike D'Antoni. The Rockets made a long-term commitment to Harden, despite his quirky personality and questionable desire to play defense, by restructuring and extending his contract for four years and $118MM.
The disconnect between Harden and the team's other superstar, Dwight Howard, was evident last season but with Howard out of the picture, Harden is embracing the leadership role. He organized mini-camps and workouts with some of his teammates prior to training camp. "Just trying to shake things up, just trying to make sure we really know each other in and out on and off the court," he said. "I think that will translate to a better team."
Harden's 29.0 scoring average last year was second only to the 30.1 averaged posted by Stephen Curry and he could be even more dangerous under offensive guru D'Antoni. The Rockets pursued a number of high-profile candidates to replace interim coach J.B. Bickerstaff, who took over after the early-season firing of Kevin McHale. They settled on the former Suns, Knicks and Lakers coach, who will put the ball in Harden's hands as much as possible.
Duke coach Mike Krzyzewski believes D'Antoni's scheme perfectly suits Harden's skills. "When you have plays and reads, it's the best combination," Krzyzewski said. "It's especially good if you have a special player, and they do in James. It will be interesting to see how that develops because James is not just a really good scorer; James is a heck of a passer."
Howard wore out his welcome in Houston and the front office gladly let him walk after he opted out of the final year of his contract. What the franchise did in free agency was both intriguing and risky.
The Rockets handed generous contracts to two oft-injured players. Power forward Ryan Anderson inked a colossal four-year, $80MM deal and guard Eric Gordon received a four-year, $52.9MM commitment. Anderson seems like a great fit as the stretch four in D'Antoni's free-flowing attack. The biggest drawback is that Anderson has only once played more than 66 games during his eight-year career because of various ailments.
Compared to Gordon, Anderson is an iron man. His balky knees limited him to 221 games in five seasons with the Pelicans. When he's on the court, Gordon is a solid, aggressive scorer and 3-point shooter. The pressure on the Rockets' medical staff to have Gordon wearing a uniform instead of a suit on game nights.
Harden could see a lot of time at the point with Gordon at shooting guard, particularly with Patrick Beverley experiencing knee issues in camp that may require surgery. The Rockets do have some other options at the point, despite renouncing their rights to Jason Terry as well as forwards Terrence Jones and Josh Smith at the start of free agency. Pablo Prigioni was re-signed to a partially-guaranteed contract and Tyler Ennis was acquired from the Bucks in exchange for forward Michael Beasley.
The Rockets also added depth at center behind new starter Clint Capela by signing another player with a long injury history, 34-year-old Nene Hilario, to a one-year contract.
With Trevor Ariza and Corey Brewer signed through the 2017/18 season, the Rockets didn't feel the need to tinker with their small forward position.
They could add more depth at power forward, depending upon how the Donatas Motiejunas saga plays out.
Motiejunas remains the last retricted free agent on the market but long-term concerns over his back have virtually destroyed his bargaining power. The Pistons rescinded a trade for him last winter after their medical personnel examined Motiejunas.
Houston made a qualifying offer to Motiejunas, which expired at the beginning of this month. However, that only strengthens the Rockets' position. They still have the right of first refusal and Motiejunas no longer has the safety net of signing that one-year QO, which would have allowed him become an unrestricted free agent next summer.
Houston didn't have a first-round pick in the draft and the remainder of its training-camp roster mainly consists of rookies and marginal players trying to make the team.
Undoubtedly, the Rockets should be fun to watch, with Harden leading a quick-paced attack that might lead the league in scoring. But the Rockets finished fourth in that category last year despite all the chemistry issues.
The big challenge is whether the Rockets will defend well enough to become a true contender again. They were 25th in points allowed and 19th in defensive field-goal percentage. They also finished at the bottom in defensive rebounding percentage last season despite the presence of Howard.
Can they protect the rim well enough with the duo of Capela and Anderson, as well as improve their defensive rebounding to get their high-powered offense in gear? Those are questions that will only be resolved as the season moves along.
Salary information from Basketball Insiders used in the creation of this post. Photo courtesy of USA Today Sports Images.