Over the next several weeks, Hoops Rumors will be breaking down the 2016 offseason for all 30 NBA teams, revisiting the summer's free agent signings, trades, draft picks, departures, and more. We'll evaluate each team's moves from the last several months and look ahead to what the 2016/17 season holds for all 30 franchises. Today, we're focusing on the Milwaukee Bucks.
Free agent signings:
Camp invitees:
Extensions:
Trades:
Draft picks:
1-10: Thon Maker. Signed to rookie contract.
2-36: Malcolm Brogdon. Signed for three years, $2.99MM. Third year non-guaranteed.
Departing players:
Other offseason news:
---
Check out our salary cap snapshot for the Milwaukee Bucks right here.
---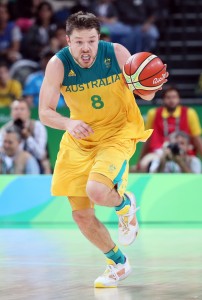 After taking two huge steps forward in 2014/15, going from 15 wins to 41 and a surprising playoff berth, the Bucks took a step back last season, dropping to 33 wins and the draft lottery. After an offseason that saw the team add a number of veterans to its youthful core, Milwaukee hopes to return to the playoffs and continue to progress as a franchise.
It's certainly debatable whether or not the team did enough to ensure that result, with the Bucks' largest external signing being former Cavs backup point guard Matthew Dellavedova, who received a four-year, $38.43MM pact via a sign-and-trade deal with Cleveland. I'm not knocking Dellavedova, whose grit and hustle are a valuable commodity. But I'm not sold that he's a significant upgrade over Jerryd Bayless, who signed with the Sixers as an unrestricted free agent this summer.
The duo's stat lines were similar in 2015/16, with Bayless posting averages of 10.4 PPG, 2.7 RPG and 3.1 APG to accompany a shooting line of .423/.437/.778 and Dellavedova putting up 7.5 PPG, 2.1 RPG and 4.4 APG to go along with a slash line of .405/.410/.864. The Australian is more of a spark provider than Bayless, but his addition doesn't quite move the needle enough for Milwaukee for him to be considered a true game-changer this season.
The offseason signing that may help the Bucks the most was the addition of forward Mirza Teletovic, whose outside shooting will be a major benefit to the team, given its weakness from beyond the arc last season. While I think that a three-year deal worth $10.5MM per season is a huge risk given Teletovic's injury history and age, he provides coach Jason Kidd with a true stretch-four to deploy on a nightly basis. The 31-year-old has averaged just 61 contests per campaign since arriving in the NBA, though he did manage 79 appearances a season ago, averaging 12.2 PPG and draining 39.3% of this three-pointers.
Milwaukee also added veterans Jason Terry ans Steve Novak on one-year, minimum salary deals to provide leadership and bench production. At this point in his career, the 39-year-old Terry is more valuable as a leader and locker room presence than on the court. Though, the Jet still likely has a few big shots left in him before calling it a career. As for Novak, he's still one of the deadliest three-point shooters in the game (43.1% for his career), but his extremely limited skillset makes him difficult to keep on the court for significant stretches.
The Bucks made a significant financial commitment to restricted free agent Miles Plumlee, re-signing him to a four-year, $50MM pact. This move was a bit puzzling to me given Plumlee's extremely modest career numbers of 5.6 PPG, 5.3 RPG and 0.9 BPG. With the addition of Teletovic and Thon Maker (No. 10 overall pick), plus the continued presence of Greg Monroe (more on him in a bit) and John Henson, I don't quite get GM John Hammond's reasoning at re-signing Plumlee. He's more of a traditional big man in a league that is moving further away from that model with each passing season. All told, the Bucks committed a total of $119.53MM in guaranteed salary to Teletovic, Dellavedova and Plumlee — none of whom are considered franchise players. This is an offseason that may come back to haunt the franchise in the coming seasons.
In addition to gambling in free agency, the Bucks did so on draft night as well by selecting Maker in the top-10. The team hopes that Maker will turn out to be a steal at that spot given his potential and upside, but the rail-thin big man is a major project and there were questions leading up to the draft as to whether or not he misrepresented his age. If Maker is truly 19, and not 21-23 years old as some scouts and executives speculated, he may end up being worth the risk. But with the team's needs in the backcourt and on the wing, there were a number of prospects available at that slot who I believe could have helped the Bucks far more than Maker will in the near future.
As for Monroe, who has a player option for 2017/18 worth $17,884,176, the Bucks are still reportedly trying to find a taker for the big man's services. Contrary to popular opinion, Monroe didn't have a bad 2015/16 season, his first in Milwaukee, averaging 15.3 PPG and 8.8 RPG and shooting 52.2% from the field overall. But he was a bad fit for the Bucks' roster, with his defense not being up to par and his lack of athleticism not meshing well with the style of play Kidd desires. The best thing for all parties involved would be for the team to find a taker for Monroe sooner, rather than later. The 26-year-old has been mentioned in trade rumors connected with the Hornets and Kings recently, as well as with the Pelicans earlier in the offseason.
Another player who appears to be a poor fit and is also reportedly on the trading block is point guard Michael Carter-Williams. Despite a recent endorsement from Kidd, the former Rookie of the Year was reportedly offered to the Kings in exchange for Ben McLemore, as Milwaukee struggles to fill the major void left by the devastating injury to Khris Middleton, who is expected to miss at least six months of action. Hammond's September trade with the Rockets to land Michael Beasley isn't likely the answer to mitigate the loss of Middleton, so Monroe and MCW remain the team's two likeliest assets to be moved in any future swaps to address its hole at the wing.
While I've been critical of a number of the Bucks' offseason moves, there is no way I can find any fault with the team inking superstar-in-waiting, Giannis Antetokounmpo to a four year, $100MM rookie scale extension. The Greek Freak is indeed the future of the franchise and locking him up through 2020/2021 at less than the projected maximum is a coup on Hammond's part. The only worry I have regarding Antetokounpo is that his tremendous positional versatility will stunt his development. If Milwaukee continually shifts him around, it will make it difficult to focus and perfect his skills as he continually has to adjust to new challenges and position requirements. But it is a good problem to have, as the team will be able to structure its roster around him without worrying if he'll still be a member of the team for the next four plus seasons.
Despite making some questionable expenditures this offseason, the Bucks have a number of solid building blocks along with a bona fide star in Antetokounmpo as they head into the future. The franchise would be best served to swing deals for MCW and Monroe in order to remove the distraction that near-constant trade rumors regarding the duo will bring. Plus, it would hopefully provide better balance to the roster. The injury to Middleton likely squashed any chance the Bucks had to make some noise in the Eastern Conference this season, which is unfortunate for all involved. If a number of the team's younger players can step-up, playing .500 ball is a possibility in 2016/17.
Salary information from Basketball Insiders used in the creation of this post. Photo courtesy of USA Today Sports Images.