Over the next several weeks, Hoops Rumors is breaking down the 2016 offseason for all 30 NBA teams, revisiting the summer's free agent signings, trades, draft picks, departures, and more. We'll evaluate each team's moves from the last several months and look ahead to what the 2016/17 season holds for all 30 franchises. Today, we're focusing on the Orlando Magic.
Free agent signings:
Camp invitees:
Trades:
Draft picks:
2-41: Stephen Zimmerman: Signed for three years, $2.993MM. Second and third years non-guaranteed.
Departing players:
Other offseason news:
---
Check out our salary cap snapshot for the Orlando Magic right here.
---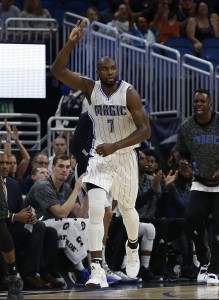 The Magic's 2015/16 season was a disappointing one, with the team finishing with a record of 35-47 and missing the playoffs for the fourth straight year. Their head coach, Scott Skiles, resigned over differences in philosophy with the front office and the team entered the summer still searching for an identity and lacking a star player to build around. What followed was an active and somewhat puzzling offseason, with the franchise making a number of changes that arguably made the team better, but raised quite a few questions about how the pieces will fit together cohesively this year.
Orlando's first move of the offseason was to replace Skiles, who never seemed like the right fit with the franchise anyway. Skiles has always been a taskmaster who has quickly worn out his welcome at past coaching stops, and whose old-school style wasn't the right blend with the plethora of young players on the team's roster. GM Rob Hennigan made a solid move in hiring Frank Vogel, who was let go by the Pacers despite his years of solid work with the franchise. Vogel is a much better fit for this group of players and he should quickly be able to turn around the culture of the team.
With a new head coach in place, Hennigan then turned toward reworking the team's roster. The GM's biggest and riskiest move of the summer was the draft night trade with the Thunder that shipped out Victor Oladipo, Ersan Ilyasova and the rights to Domantas Sabonis, the 11th overall pick, in exchange for versatile and athletic forward, Serge Ibaka.
This is a swap that I have extremely conflicted feelings about. Ibaka has the potential to emerge as a star in Orlando now that he is out of the shadows of Russell Westbrook and Kevin Durant in Oklahoma City. The 27-year-old is a solid all-around defender whose outside shooting and athleticism will give Vogel some interesting and exciting possibilities on offense. However…there are a number of negatives to his acquisition that I find difficult to overlook.
First off, the team gave up quite a bit to acquire him. Oladipo has been somewhat of a disappointment since being selected in the draft lottery, with his offensive game not quite evolving the way the franchise had hoped. But he is a solid three-and-D player who still has a lot of upside. Skiles was definitely the wrong coach to bring out Oladipo's best, and I would have loved to have seen what Vogel could have gotten out of the player. While Ilyasova is nowhere near the defender and rebounder that Ibaka is, when all things are said and done, his scoring output won't be that far removed from what Ibaka's numbers have been throughout his career. Plus, Sabonis is one of the more polished players in this year's draft class, and he could end up being a solid rotation player for years to come.
There is also a question of fit for Ibaka, especially when coupled with a number of the team's other moves this offseason. The addition of Ibaka will either force former lottery pick Aaron Gordon to shift to small forward, a position his shaky outside shooting may not be best suited for, or to the bench, will will stunt his growth as a player. Then there's Jeff Green, who was signed to a one-year, $15MM deal by Orlando. This is an addition that I fail to see the logic in for the Magic. Green is a versatile player who can man either forward spot, but he's not a great defender and his offensive game has been steadily on the decline. The money that went to Green could have been better spent to plug other holes on the roster, and the minutes he'll soak up would be better allocated to developing the younger players on the team who'll now be forced to sit as Green plays out his one-year deal. Plus, if you were going to pay a forward that much, it would have made far more sense to simply hold onto Tobias Harris, whose skillset would have been tailor-made for Vogel's system.
Another signing that was somewhat odd for the Magic, given their roster makeup, was the addition of rebounding monster, Bismack Biyombo. I have no issues with Biyombo as a player. He's a hard-worker who will fight for every rebound like it was his last and play solid defense every second he's on the court. But with Nikola Vucevic already on the roster, unless the Magic intend to find a taker for the 25-year-old in the trade market, it creates another playing time logjam for the team. Either Vucivic, who is earning $11,750,000 this year and under contract for two more season beyond this one, or Biyombo, who is set to earn $17MM each of the next four seasons, will be coming off the bench. That's an expensive luxury for a non-contender to have.
There were two other questionable acquisitions made by Orlando this offseason. First up, the trade with Detroit to acquire Jodie Meeks and his expiring contract. In 63 total games over the last two years, including just three in 2015/16 due to injury, Meeks averaged 10.9 points and 0.9 steals per game while shooting 35.3% from three-point range. If healthy, which he currently is not, Meeks can provide a spark off the bench. But…why did the Magic feel the need to add him to the mix when it potentially takes away playing time from 2015 lottery pick Mario Hezonja? The second-year player has a wealth of potential, despite what he showed during his rough rookie campaign. Meeks doesn't move the dial enough in my book for him to be worth acquiring, and this is an area where the money spent on Green could have been better allocated and used to sign a higher impact player on the wing.
The other addition I alluded to in the previous paragraph was the signing of point guard D.J. Augustin to a four-year, $29MM deal. I understand the team's concerns regarding Elfrid Payton, whose outside shooting doesn't strike fear into the hearts of defenders. But I question the move to give Augustin, who has dealt with nagging injuries the past few seasons, a four-year commitment. While he has a clear fit in the team's rotation, unlike a number of the team's other offseason additions, his $7,250,000 salary, coupled with Biyombo's and Green's makes for a rather expensive bench. It feels to me like Hennigan overreacted this offseason to the Magic's deficiencies and threw too much money at the problem, rather than waiting to see what Vogel would be able to correct through coaching and rapport.
One move made by Hennigan that I can find no fault in, is re-signing restricted free agent Evan Fournier to a five-year, $85MM pact. The 23-year-old enjoyed a breakout season for Orlando in 2015/16, starting a career-high 71 of 79 games for the team and notching career-best marks in several other categories, including PPG (15.4), APG (2.7), RPG (2.8), and 3PT shots made per contest (2.0). He also had a very respectable shooting line of .462/.400/.836. Given the current economics of the game thanks to the new TV contract and salary cap bump that comes along with it, keeping the talented young wing in the fold for approximately $10MM below the max should be considered a win. With Oladipo now gone, this clears the way for Fournier to continue to evolve as a player, and hopefully, become a star in the East. Granted, that size contract always carries with it some risk, but this is one that should pay off for the team over the life of the deal.
I'd wager that if the Magic can remain healthy as a team in 2016/17, finishing with 40-45 wins is within the realm of possibility. The presence of Vogel alone should be good for a five win improvement over last season. However, there are far too many rotation questions thanks to the seemingly ill-fitting parts the team added over the summer. Orlando needs to be active prior to the trade deadline and attempt to make a big trade to land another star to place alongside Ibaka, consolidating its roster depth in the process. Hopefully the team will do well enough to convince Ibaka that Orlando is his best option for a long-term home when he hits free agency this coming offseason. If the forward were to depart next July, it would be disastrous for the franchise and set it back years as a result.
Salary information from Basketball Insiders used in the creation of this post. Photo courtesy of USA Today Sports Images.