Over the next several weeks, Hoops Rumors will be breaking down the 2016 offseason for all 30 NBA teams, revisiting the summer's free agent signings, trades, draft picks, departures, and more. We'll evaluate each team's moves from the last several months and look ahead to what the 2016/17 season holds for all 30 franchises. Today, we're focusing on the Utah Jazz.
Free agent signings:
Camp invitees:
Trades:
Draft picks:
Departing players:
Other offseason news:
---
Check out our salary cap snapshot for the Utah Jazz right here.
---
The mantra around the Utah Jazz franchise this summer came down to these two words: Get older. While teams with aging rosters often spend their offseasons trying to acquire younger talent, the Jazz felt they needed to find playoff-tested veterans to fortify their youthful roster and rescue them from their cycle of mediocrity. The Jazz have won anywhere from 36 to 43 games in five of the last six seasons with only one playoff appearance during that span.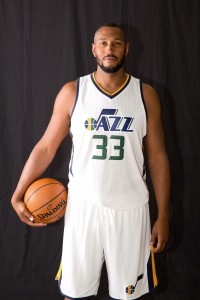 Enter the 30-something brigade. By the time the Jazz finished reshaping their roster, they had a trio of well-established, grizzled veterans to help guide the franchise to greater success — 35-year-old Joe Johnson, 34-year-old Boris Diaw and 30-year-old George Hill.
The first order of business, however, was to make a commitment to their coach. The Jazz have finished with a losing records during Quin Snyder's first two seasons but the front office believes it has the right man patrolling the bench. Snyder agreed in May to a long-term extension, reportedly through the 2020/21 season. That not only gives him job security but also greater authority with the players, who know he's going to be charge for awhile.
With that out of the way, the Jazz made a bold move on draft night, agreeing to ship their lottery pick to the Hawks and acquire Hill from the Pacers in a three-team deal. This filled a huge void for the Jazz, who were caught flat-footed when projected starting point guard Dante Exum tore his ACL and missed all of last season. Utah was stuck with the unimposing duo of disappointing lottery pick Trey Burke and Raul Neto running the show, until Shelvin Mack stabilized things to a degree after he was acquired from the Hawks in February.
Even so, Utah finished 28th in both points scored and assists. Hill should help move those numbers forward.
Hill was often used off the ball in Indiana last season as his PER fell from a career-high 21.52 to 13.22. While not a prototypical point man, Hill is a solid distributor, an above-average 3-point threat and an excellent defender with a large wingspan for a player his size. The Jazz couldn't count on Exum coming all the way back from his knee injury and stepping right into the lineup. Ideally, Exum will eventually reclaim the starting role with Hill guiding the improved second unit.
As it turned out, Hill was the least experienced of the major acquisitions the Jazz made this offseason. They were quite busy in July, starting with the trade for Diaw. They dealt the rights to Olivier Hanlan to the Spurs for Diaw and a future second-rounder. Diaw has been a durable and consistent backup big man for a perennial contender over the past four seasons, appearing in at least 75 games each of those campaigns. He averaged 6.4 points and 3.1 rebounds in 18.2 minutes last season and gives the Jazz a quality backup to center Rudy Gobert, who missed 21 games last season due to injury.
The Jazz took a low-key approach to the free agent market, opting to preserve their cash with looming decisions on some of their top players. The only notable move they made was to sign Johnson to a two-year, $21.5MM deal. Johnson will have to transition to an unfamiliar role as a second-unit player. He has started every game in which he has appeared since the 2004/05 season, but he'll primarily served as Gordon Hayward's backup at small forward. Johnson figures to be the No. 1 scoring option among the reserves and a mismatch for most second-unit forwards around the league.
With Hill in place, the Jazz had no need for Burke and they found a taker in the Wizards, who only needed to give up a future second-rounder for him. Mack made enough of an impression to have his modest $2.4MM salary guaranteed for this season.
There were some other housekeeping items, such as signing a couple of second-round picks to partial guarantees, but the Jazz still have up to $14.7MM in salary-cap space. That could give them flexibility to make some in-season moves, depending upon how it unfolds. They have also positioned themselves to restructure the contract of power forward Derrick Favors. An extension candidate as we detailed this summer, Favors is signed through next season. An extension agreement must be reached by the 19th of this month, if both sides opt to go in that direction.
The extension deadline for Gobert, who is still on his rookie contract, arrives at the end of the month. While Gobert has expressed an interest in signing an extension, there haven't been any major rumbles that the sides are close to a deal. If the deadline passes, Gobert will become a restricted free agent next summer.
Perhaps the most intriguing issue is what the Jazz have in mind for Hayward. It's a slam dunk that Hayward will opt out of the final year of his contract and enter the market next summer as an unrestricted free agent. If the Jazz have concerned about retaining Hayward, or if they are reluctant to commit a massive amount of money to him as their franchise player, he could be dealt. That's an unlikely scenario, but if Utah underperforms during the first half of the season, it's something the franchise would have to seriously consider.
On paper, the Jazz look like an improved team that should make the playoffs if their main cogs can stay healthy. They have better depth and leadership with the additions they have made, combined with a quality youthful core. With this roster, another finish around the .500 mark would be a disappointment.
Salary information from Basketball Insiders used in the creation of this post. Photo courtesy of Russ Isabella / USA Today Sports Images.