If case you missed any of this past week's biggest headlines from around the NBA, we've got you covered with our Week in Review. Here are some of the most noteworthy stories from the last seven days.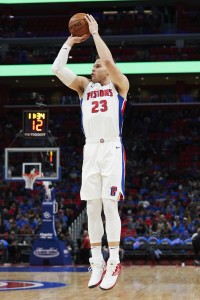 In a somewhat surprising, albeit blockbuster move, the Clippers traded star power forward Blake Griffin to the Pistons in a multi-player deal. Detroit sent forward Tobias Harris, shooting guard Avery Bradley, center Boban Marjanovic, its 2018 first-round pick, and a 2019 second-round pick to the Clippers, while Los Angeles sent forward Brice Johnson and center Willie Reed to Detroit in addition to Griffin. The Pistons' 2018 first-rounder being sent to the Clippers is protected for picks 1-4 in this year's draft as well as the 2019 and 2020 drafts, assuming it's not conveyed. The pick is unprotected in 2021.
Despite initially falling apart because New Orleans didn't want to guarantee Nikola Mirotic's 2018/19 salary, the Pelicans and Bulls agreed to a trade centered around Mirotic, with his next season's salary now guaranteed. Omer Asik, Tony Allen, Jameer Nelson, and the Pelicans' 2018 first-round pick are headed to Chicago in exchange for Mirotic and the Pelicans own 2018 second-round pick that the Bulls originally acquired from New Orleans in a September trade. In order to complete the the trade, the Bulls also waived Quincy Pondexter. The 2018 first-rounder headed to Chicago is top-five protected in 2018, top-eight protected in 2019, top-ten protected in 2020, top-nine protected in 2021, and top-six protected in 2022. Finally, the Bulls will have the option to swap second-round picks with the Pelicans in the 2021 draft.
The Suns waived Greg Monroe as part of a buyout agreement after being unable to find any worthy trades on the market. Monroe, who was sent to the Suns earlier this season in the move that landed Eric Bledsoe in Milwaukee, had seen inconsistent minutes while competing for playing time with Tyson Chandler and Alex Len. The details of the buyout agreement are not yet known, but Monroe will likely retain a large chunk of his salary, as Phoenix would still be nearly $9MM under the cap even if it paid Monroe's full $17.88MM cap hit.
Speaking of Monroe, he will sign with the Celtics on a one-year, $5MM deal after becoming a free agent today. The Celtics and Pelicans were believed to be the frontrunners for Monroe, who is from New Orleans, but while the Pelicans offered Monroe the opportunity to be their starting center, the big man will presumably instead head to Boston because he'll make more money and have a better chance to win a title. Boston was able to take advantage of its $8.4MM disabled player exception – awarded after Gordon Hayward went down in the team's season opener – while New Orleans was unable to do so because DeMarcus Cousins went down after the Jan. 15 deadline to apply.
LeBron James steadfastly denied an ESPN story about him being open to talking to the Warriors during his free agency this offseason. The report cautioned that there's no indication Golden State would be interested, but that James would listen to a pitch out of respect for the team's "winning culture." James vociferously denied the story yesterday, calling it "nonsense" and a "non-story", claiming his only focus at the moment is becoming a champion again and not to trust any rumors coming directly from his mouth.
Here are 11 more NBA headlines from the last week worth noting: