Missed any of this week's biggest story lines? Don't worry, because we've got it covered with our Week in Review. Listed below are some of the most noteworthy reports from the last seven days.
The Rockets signed restricted free agent center Clint Capela to a five-year, $90MM contract. The contract will contain no team or player options. Capela's new deal falls short of the $100MM he was reportedly seeking, but considering the lack of cap space other clubs were armed with around the league, it looks like a reasonable deal for both player and team. Capela's new deal will push the Rockets' team salary well beyond the luxury tax line of $123.733MM.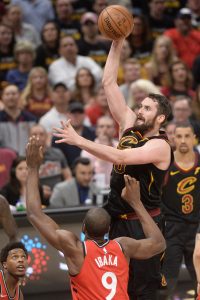 The Cavaliers signed All-Star Kevin Love to a four-year, $120MM contract extension. As part of the agreement between Love and the Cavs, the 29-year-old big man declined his player option for 2019/20, with the first year of his new deal replacing that option. Factoring in his salary for the 2018/19 season, Love is therefore on track to earn nearly $145MM over the next five seasons. The extension includes no options and is fully guaranteed.
Clippers forward Tobias Harris reportedly turned down a contract extension offer worth approximately $80MM. Harris, 26, will now play out the final year of his current deal and become an unrestricted free agent next summer, when he will be eligible to sign a five-year, $189.7MM with the Clippers or a four-year, $140.6MM deal with another franchise.
After he officially becomes an unrestricted free agent, veteran forward Carmelo Anthony says he plans to sign with the Rockets. Anthony is now a member of the Hawks (see directly below), but Atlanta has made clear their plans to waive him. Because Houston plans to sign Anthony to a one-year, minimum-salary contract, the team will retain its $5.34MM taxpayer mid-level exception.
The three-team trade involving the Thunder, Hawks, and Sixers is now official. Anthony and Justin Anderson are now members of the Hawks, while both Dennis Schroder and Timothe Luwawu-Cabarrot are now members of the Thunder. Meanwhile, Mike Muscala joined the Sixers.
Here are 11 more notable NBA headlines from the last week: