Hoops Rumors is breaking down the 2018 offseason for all 30 NBA teams, revisiting the summer's free agent signings, trades, draft picks, departures, and more. We'll evaluate each team's moves from the last several months and look ahead to what the 2018/19 season holds for all 30 franchises. Today, we're focusing on the Charlotte Hornets.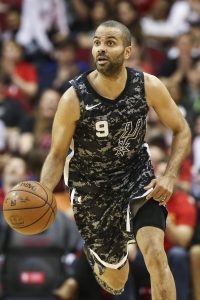 Signings:
Standard contracts:

Tony Parker: Two years, $10.25MM. Second year non-guaranteed. Signed using mid-level exception.

Two-way contracts:
Non-guaranteed camp contracts:
Trades:
Draft picks:
1-12: Miles Bridges — Signed to rookie contract.
2-34: Devonte' Graham — Signed to three-year, $4.07MM contract. First two years guaranteed. Signed using mid-level exception.
2-55: Arnoldas Kulboka — Will play overseas.
Departing players:
Other offseason news:
Named Joe Wolf new head coach of G League affiliate Greensboro Swarm.
Salary cap situation:
Remained over the cap.
Carrying approximately $120.3MM in guaranteed salaries.
Hard-capped at $129.82MM.
$2.65MM of mid-level exception still available ($5.99MM used on Tony Parker and Devonte' Graham).
Full bi-annual exception ($3.38MM) still available.
---
Check out the Charlotte Hornets' full roster and depth chart at RosterResource.com.
---
Story of the summer:

The Hornets were the only NBA team to separately replace both their head of basketball operations (Rich Cho) and their head coach (Steve Clifford) this spring, a sign that team ownership was dissatisfied with the latest stretch of mediocrity in Charlotte.
Since re-entering the NBA as an expansion team in 2004, Charlotte has finished above .500 just three times and has never won a postseason series. During the last two years of Cho's and Clifford's respective tenures, the team posted identical 36-46 records, unable to earn a playoff spot in a subpar Eastern Conference.
In an effort to turn things around, the Hornets brought in former Lakers general manager Mitch Kupchak to run the team and hired Spurs assistant James Borrego as their new head coach. There's no doubt that the two men have winning pedigrees — they combined for six titles in Los Angeles and San Antonio, respectively.
Still, Kupchak's tenure in L.A. ended with a series of questionable roster moves, and Borrego's only NBA head coaching experience came when he went 10-20 as the Magic's interim coach in 2014/15. They'll have to prove themselves all over again in their new roles with the Hornets, but the roster they inherited – loaded with pricey multiyear contracts – didn't give them a real opportunity to put a stamp on the franchise this summer.
Key offseason losses:
Reunited with Clifford for the 2017/18 season, Dwight Howard had a nice year, averaging 16.6 PPG and 12.5 RPG in 81 games. However, Howard has worn out his welcome in multiple NBA cities in recent years, and whispers in the wake of the trade that sent him to Brooklyn suggested that the Hornets weren't too broken up about moving on from him — even if it meant taking on an unwanted multiyear contract in exchange for Howard's expiring deal.
Outside of Howard, no departing Hornet averaged more than five points per game for the team last season, but it wouldn't be a surprise if a couple of those players increased their production on new clubs.
Treveon Graham, for instance, provided the Hornets with solid minutes at the wing, making 41.2% of his three-point shots, but didn't receive a qualifying offer and signed with Brooklyn as an unrestricted free agent. Michael Carter-Williams, meanwhile, should have an opportunity to bounce back with the 65-win Rockets after things didn't work out in his backup point guard role in Charlotte.
Key offseason additions:
With no cap room available and luxury tax concerns looming, the Hornets' ability to spend on free agents this offseason was limited. Charlotte's only real investment on the free agent market was an extension of the team's head coaching decision — Tony Parker arrives as Kemba Walker's new backup at the point, making the move from San Antonio just like Borrego.
Parker is no longer the star player he once was, but he has championship experience and remains a steady veteran presence. The backup point guard spot has often been a troublesome area in recent years for the Hornets, but Parker is capable of reliably spelling Walker, perhaps even playing alongside him in crunch time.
The Hornets' other notable additions came in the draft, as lottery pick Miles Bridges and second-rounder Devonte' Graham joined the mix. They should each provide the franchise with solid outside shooting, with Bridges showing the potential to develop into a starting three-and-D wing.
Both rookies were acquired in draft-night trades, reflecting the organization's fondness for them — the Hornets gave up two future second-rounders to nab Graham, and surrendered potential point-guard-of-the-future Shai Gilgeous-Alexander for Bridges.
Outlook for 2018/19:
The additions of Borrego, Parker, and Bridges may make the Hornets a more interesting team to watch in 2018/19, but this is still a franchise without a clear direction. Is Walker a long-term building block, or the Hornets' best trade chip? Is the new regime fond enough of previous lottery picks like Frank Kaminsky and Malik Monk to view them as core pieces for the future? Do the Hornets intend to try to dump their pricey multiyear contracts, or simply wait for them to expire in 2020 and 2021?
Of the five trades the Hornets made this offseason, the deal to send Howard to the Nets in exchange for Timofey Mozgov and draft picks may have revealed the most about Kupchak's long-term plans. While Mozgov was only briefly a Net before being flipped to Orlando, the fact that the Hornets were willing to take on his remaining two years in exchange for Howard's one suggested that Kupchak was in no rush to clear the team's cap and start over.
Kupchak will eventually shape the roster into one more suited to his tastes, but this offseason's moves indicate that we may not see that revamped roster until 2020. The one things that could accelerate that timeline is a midseason Walker trade, so that will be the storyline most worth watching in Charlotte during the 2018/19 campaign.
Salary information from Basketball Insiders was used in the creation of this post. Photos courtesy of USA Today Sports Images.