The NBA's opening day isn't an official holiday (National Basketball Day is "officially" November 6, James Naismith's birthday), though the start of professional basketball has a special feel to it. It's a day filled with anticipation, one where you can catch up on any team previews you might have missed, make your last-second predictions, and get your last-minute season-long bets in (provided, you are of course, in a state or country where such gambling is allowed).
After an offseason of change with several top players switching teams and others begrudgingly staying put, the NBA'S 73rd campaign is here and that means fantasy basketball season is upon us. Here are some early storylines to watch from a fantasy perspective:
Kemba Walker and Optimism In Charlotte
Kemba Walker, who will be a free agent at the end of the season, has been on the trade block for quite some time and – as we mentioned in our top-150 rankings – the threat of Charlotte shipping him away puts a light blanket on his fantasy value. However, this is a franchise that is itching to make the postseason and they may be able to shimmy into the top spot in the division with no elite team lurking.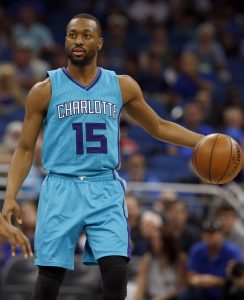 The Wizards added Dwight Howard and Austin Rivers to a core that appears to have a definite ceiling. The Heat are still listening to the Timberwolves' stock music as they wait on hold in Jimmy Butler negotiations. The Hawks are in a full rebuild and the Magic haven't been competitive since Hedo Turkoglu was in his prime. The division is up for the taking.
The Hornets won't deal Walker if they are in the playoff race and they may even add talent for a run, as ESPN's Zach Lowe speculated in his latest piece. If Walker stays put all year and the team can give him another running mate, he'll be a top-five point guard in the fantasy realm.
Changing Of The Guards (Temporarily) In OKC
Russell Westbrook continues to rehab from September knee surgery, something that caused him to drop in our preseason Fantasy Hoops rankings. There's no set date for his return. In his absence, Dennis Schroder, who came to the Thunder in the Carmelo Anthony deal, is a must-start in daily fantasy and a few other players should be on the fantasy radar as a result of Oklahoma City's injury woes.
Raymond Felton, who was third on the team during the preseason with a usage rate of 26.1, becomes usable in both daily and season-long formats. With Andre Roberson still months away from a return, Felton, Terrance Ferguson, and Hamidou Diallo should fill in the guard rotation.
Paul George sees a spike in value while Westbrook is sidelined. Expect his usage rate to be among the league leaders early on.
The Knicks' Three-Guard Starting Lineup
The Knicks will trot out a starting five of Trey Burke, Tim Hardaway Jr., Frank Ntilikina, Lance Thomas, and Enes Kanter in a lineup that figures to bleed points. Ntilikina has the potential to be a lockdown defender and he has the ability to defend three positions. Still, this is a lineup that shouldn't give opposing offenses much resistance.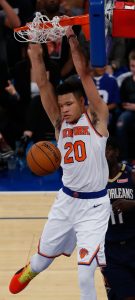 No. 9 overall pick Kevin Knox's fantasy stock takes a slight hit as he moves to the bench. Coach David Fizdale hopes the decision to bring Knox off the pine will motivate the rookie and fantasy owners are hoping for the same. Knox is talented and he'll get more run as the season goes along. New York is going to be bad—among the league's worst—and the franchise will need to use its on-court minutes to evaluate everything in-house before it heads into an offseason that could be filled with fireworks.
Trae Young will be Atlanta's opening night starter with Jeremy Lin not yet ready to play. Expect a good showing against the aforementioned Knicks in The Garden and expect him to keep the gig for the remainder of the season.
Young will fill up the stat sheet with points and assists, and the Hawks will likely be running Rookie-Of-The-Year promos for him later in the season. He has a good chance to be the best rookie this season from a fantasy perspective.
When MCW signed with Rockets, NBA Twitter responded with shrugs, laughs, and some questionable emojis. Yet, the track record of Daryl Morey, along with the new environment gives hope to the combo guard's season.
The former Rookie Of The Year award winner will be in the best situation of his meandering career. Last year, he played for a young, thin Hornets team, where Walker was the only top talent. Prior to that, he had a cup of coffee with Chicago sitting behind Dwyane Wade and Rajon Rondo on one of the wonkiest rosters ever assembled. Before those stops, he spent time with the Baby Bucks and was a lead character during the opening scene of The Process.
Now, MCW is playing on an established team has turned around more than a few NBA careers. This season, he'll play behind Chris Paul, James Harden, and Eric Gordon and while there won't be many minutes for him right away, he'll have the opportunity to continue to learn and compete for a role.
Admittedly, this is not an early storyline to watch and it's unlikely he becomes a fantasy asset. However, with an aging Paul and a team that could take its foot off the gas in an effort to remain healthy for the postseason, I wouldn't be totally shocked if Carter-Williams becomes fantasy relevant at some points during the season.
Fantasy questions? Take to the comment section below or tweet me at @CW_Crouse.
Missed an earlier edition of Fantasy Hoops? Check out the entire series here.
Photos courtesy of USA Today Sports Images.