Over the course of the 2018/19 NBA season, up until February's trade deadline, we're keeping an eye on potential trade candidates from around the NBA, monitoring their value and exploring the likelihood that they'll be moved. Each of these looks at possible trade candidates focuses on a specific division, as we zero in on three players from that division.
There aren't many Pacific players who have been the subject of reported trade rumors yet, but there are several veteran wings in the division on expiring contracts who could become available over the course of the season — particularly if their roles decline or if things go south for their respective teams.
Here's our early-season look at a few possible trade candidates from the Pacific…
Kentavious Caldwell-Pope, G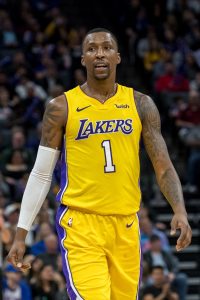 Los Angeles Lakers
$12MM cap hit; unrestricted free agent in 2019
After averaging 33.2 minutes per game last season in what was ostensibly a rebuilding year for the Lakers, Caldwell-Pope has seen his playing time dip to 18.5 MPG in 2018/19. That's a worrying trend for a veteran, particularly since the Lakers actually have playoff expectations this time around.
Caldwell-Pope, no longer in the starting lineup, has struggled to be effective in his limited minutes so far, posting just 6.9 PPG with a .326 3PT% in 14 games. With Josh Hart playing the Caldwell-Pope role better than KCP himself, the veteran could become expendable.
Moving Caldwell-Pope would be tricky, however. His $12MM expiring contract is still something of an asset for the Lakers, who project to have a chunk of cap room in 2019 and won't want to compromise their flexibility by taking on a multiyear deal in return. Caldwell-Pope also shares an agent with LeBron James, so the franchise will want to do right by him. Plus, he has the ability to veto a trade this season, though perhaps if his role remains limited, he'd welcome a change of scenery.
While a trade sometime after December 15 is possible, and the Sixers are said to have him on their radar, it's probably in the Lakers' best interest to focus on figuring out how to get the most of Caldwell-Pope on the court.
Trevor Ariza, F
Phoenix Suns
$15MM cap hit; unrestricted free agent in 2019

The Suns threw a one-year, $15MM contract at Ariza over the summer in the hopes that the three-and-D wing could help stabilize a young team and play a part in Phoenix push for a playoff spot. It doesn't look like that'll happen in a competitive Western Conference — the Suns' 3-11 record puts them at least 2.5 games back of every other team in the West.
There have been some positive signs so far for the Suns, and they won't throw in the towel yet, but if they remain firmly entrenched in the lottery in another month or two, Ariza should emerge as a prime candidate. There will be no shortage of playoff teams that could use a battle-tested veteran like him down the stretch.
While it's fun to imagine a scenario in which the Rockets, in need of another three-and-D player, re-acquire Ariza, Houston's best salary-matching piece – Brandon Knight – can't be sent back to Phoenix this season.
Iman Shumpert, G/F
Sacramento Kings
$11.01MM cap hit; unrestricted free agent in 2019

The Kings have a number of veterans on expiring contracts, but Zach Randolph, Kosta Koufos, and Ben McLemore look more like candidates for buyouts than trades. Shumpert is the exception — the 28-year-old is a fixture in Sacramento's starting lineup and has looked like his old self, averaging 8.8 PPG with a shooting line (.411/.368/.833) that eclipses his career rates.
At the moment, the 8-6 Kings are hanging onto a playoff spot in the West, so they won't be looking to sell off key rotation players. Still, the Rockets, Jazz, Spurs, and Pelicans are all just one game back of Sacramento, so it remains to be seen how long the upstart Kings can hold a top-eight spot in the conference.
If Sacramento falls off and Shumpert continues to play well, he should appeal to a team that wants to add some immediate help to its rotation without sacrificing its offseason cap flexibility. He probably wouldn't net the Kings much of a return unless they're willing to take on some unwanted money, but if they can get even a second-round pick for him, it'd be a win, given how low his stock was at the end of last season.
Previously:
Photo courtesy of USA Today Sports Images.