After four straight NBA Finals appearances, the 2018/19 season was one of transition for the Cavaliers, who lost their best player (LeBron James), dismissed their head coach (Tyronn Lue), and shifted their focus to the future. While Cleveland may have moved on mentally from those LeBron-led squads, the team's cap sheet is still catching up — many of the Cavs' priciest veteran contracts run for one more year.
Here's where things currently stand for the Cavaliers financially, as we launch our Offseason Salary Cap Digest series for 2019:
Guaranteed Salary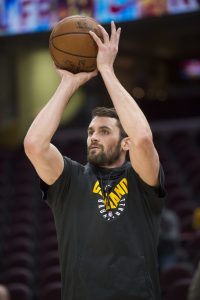 Kevin Love ($28,942,830)
Tristan Thompson ($18,539,130)
Brandon Knight ($15,643,750)
Jordan Clarkson ($13,437,500)
Larry Nance Jr. ($12,727,273)
John Henson ($10,482,396)
Matthew Dellavedova ($9,607,500)
Collin Sexton ($4,764,960)
J.R. Smith ($3,870,000) — Partial guarantee. Non-guaranteed portion noted below. 1
Cedi Osman ($2,907,143)
Ante Zizic ($2,281,800)
Total: $123,204,282

Player Options
Team Options
Non-Guaranteed Salary
J.R. Smith ($11,810,000) 1
Total: $11,810,000

Restricted Free Agents
David Nwaba ($1,890,751 qualifying offer / $1,890,751 cap hold): Non-Bird rights
Deng Adel (two-way qualifying offer / $1,443,842 cap hold) 2
Jaron Blossomgame (two-way qualifying offer / $1,443,842 cap hold) 2
Total: $4,778,435

Unrestricted Free Agents / Other Cap Holds
No. 5 overall pick ($6,392,760)
No. 26 overall pick ($2,033,160)
Marquese Chriss ($4,078,236): Bird rights 3
Channing Frye ($1,618,486): Retiring
Nik Stauskas ($1,618,486): Non-Bird rights
Total: $18,067,328
Projected Salary Cap: $109,000,000
Projected Tax Line: $132,000,000
Offseason Cap Outlook

Realistically, there's no way the Cavaliers will be able to create cap room for 2019/20. Dumping salary to get under the cap would almost certainly mean attaching assets that they've accumulated during their rebuild, and since they were willing to take on salary to acquire those assets in the first place, it would be counter-intuitive to switch gears now.
In fact, with $123MM+ in guaranteed money already on their books for 2019/20 and the possibility of adding even more salary if they can find a favorable J.R. Smith trade, the Cavs will likely be more concerned with staying below the $132MM luxury tax line than with finding a way to create cap space.
Cap Exceptions Available
Trade exception: $2,760,095 (expires 12/9/19)
Trade exception: $1,544,951 (expires 2/7/20)
Trade exception: $1,512,601 (expires 2/7/20)
Mid-level exception: $9,246,000 4
Bi-annual exception: $3,619,000 4
Footnotes
Smith's salary becomes fully guaranteed after June 30.
The salaries for two-way players don't count against a team's cap, but their cap holds do during the offseason.
Because Chriss' fourth-year rookie scale option was declined, the Cavaliers are ineligible to offer him a starting salary greater than his cap hold.
These are projected values. Additionally, the Cavaliers will not be able to use these exceptions if their team salary exceeds the tax apron. In that scenario, they'd instead receive the taxpayer mid-level exception, worth a projected $5,711,000.
Note: Minimum-salary and rookie-scale cap holds are estimates based on salary cap projections and could increase or decrease depending on where the cap lands.
Salary information from Basketball Insiders was used in the creation of this post. Photo courtesy of USA Today Sports Images.