JULY 6: The trade sending Conley to the Jazz is now official, per the NBA's transactions log. Darius Bazley, who was selected with the No. 23 overall pick last month, will be re-routed from Utah to Oklahoma City in a subsequent deal, while Korver will be sent to Phoenix.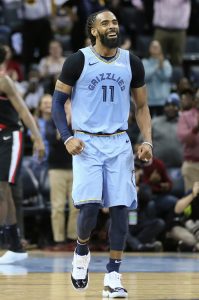 JUNE 19: The Grizzlies and Jazz have reached an agreement on a trade that will send standout point guard Mike Conley to Utah, reports Shams Charania of The Athletic (Twitter link).
According to ESPN's Adrian Wojnarowski (via Twitter), Memphis will receive a package made up of Jae Crowder, Kyle Korver, Grayson Allen, the No. 23 pick in the 2019 draft, and a future first-round pick. Per Wojnarowski (via Twitter), that second first-rounder will be a 2020 pick, which features protections through 2024.
Chris Herrington of The Daily Memphian provides the full details on those protections, tweeting that the Grizzlies will get the pick in 2020 or 2021 if it falls in the 8-14 range. If it doesn't convey in either of those drafts, it would become top-six protected in 2022, top-three protected in 2023, and top-one protected in 2024.
The deal will be completed once the new league year begins in July for cap reasons, according to Wojnarowski and ESPN's Bobby Marks (via Twitter). The Jazz will have to absorb Conley using their newly-opened cap room, but won't necessarily have to waive Derrick Favors' non-guaranteed contract to make the deal work, Marks notes (via Twitter).
It's a huge acquisition for the Jazz, who will be able to pair Conley with Donovan Mitchell in their backcourt, with Favors and Rudy Gobert up front and Joe Ingles providing floor spacing on the wing.
[RELATED: Ricky Rubio not counting on return to the Jazz]
Conley, 31, is coming off perhaps the best season of his NBA career, having averaged a career-high 21.1 PPG to go along with 6.4 APG, 3.4 RPG, 1.3 SPG, and a .438/.364/.845 shooting line.
Utah reportedly tried to land Conley at the trade deadline, putting an offer on the table that featured expiring contracts and a first-round pick, but that wasn't enough to get Memphis to accept. The Jazz figured to face competition for the point guard from possible suitors like the Pacers, Heat, Celtics, and Mavericks when they circled back this offseason, but they were able to get a deal done early in the summer.
The Jazz can now focus on filling out their roster with complementary players. With Conley's lucrative contract set to hit their books, they'll no longer be a player for major free agents, but will have the room exception available. It's projected to be worth $4.76MM.
Conley is owed $32.5MM in 2019/20 and $34.5MM in 2020/21 before his contract expires in 2021. His deal aligns him with Utah's other core pieces — currently, Mitchell and Gobert are both on track to reach free agency in 2021 as well.
As for the Grizzlies, they're expected to shift into rebuilding mode after trading long-time cornerstones Marc Gasol in February and Conley now. They're poised to select Ja Morant with the No. 2 overall pick in tomorrow's draft to supplant Conley as their point guard of the future. He and Jaren Jackson Jr. project to be the franchise's building blocks going forward.
It's not clear yet whether the Grizzlies intend to keep all the players and draft picks they're acquiring in exchange for Conley. Crowder and Korver are on fairly modest expiring contracts (Korver's salary is only partially guaranteed) and could appeal to contenders. Allen and the picks, on the other hand, represent solid assets for Memphis' rebuild, though David Aldridge of The Athletic (Twitter link) hears that the club will listen to offers for the No. 23 selection.
The Grizzlies are also in position to create a massive traded player exception in the swap, assuming they remain an over-the-cap team. Cap expert Albert Nahmad estimates the value of that exception to be about $25MM (Twitter link).
Photo courtesy of USA Today Sports Images.