If you missed any of this past week's biggest headlines from around the NBA, we've got you covered with our Week in Review. Here are some of the most noteworthy stories from the last seven days:
DeMarcus Cousins suffered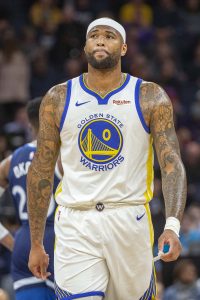 his third serious injury in the past 19 months, tearing his left ACL while working out Monday in Las Vegas. Although no timetable has been set, there's a possibility that Cousins will miss all of the 2019/20 season. Because the injury happened so late in the summer, the Lakers have limited options for replacing Cousins, who signed as a free agent last month.
De'Aaron Fox announced that he was leaving Team USA to concentrate on the upcoming season. The Kings guard is the latest in a series of high-profile withdrawals that have dwindled the number of players competing for roster spots. P.J. Tucker, Kyle Lowry and Marvin Bagley also left the team this week.
Joseph Tsai reached an agreement with Nets majority shareholder Mikhail Prokhorov to acquire full ownership of the team. Tsai also receives the Barclays Center in the deal, which still must be approved by the NBA's Board of Governors.
The Clippers are reportedly nearing a deal to add Tyronn Lue as the top assistant to Doc Rivers. Lue, who coached the Cavaliers to the NBA title in 2016, is a long-time friend of Rivers and has been in demand since he was fired early last season.
The NCAA amended its new regulations for agents who represent prospects considering the NBA draft. The change got rid of the controversial "Rich Paul Rule" that required all prospective agents to have a bachelor's degree.
Here are 10 more noteworthy headlines from the past week:
Photo courtesy of USA Today Sports Images.