Hoops Rumors is breaking down the 2019 offseason for all 30 NBA teams, revisiting the summer's free agent signings, trades, draft picks, departures, and more. We'll evaluate each team's moves from the last several months and look ahead to what the 2019/20 season holds for all 30 franchises. Today, we're focusing on the Phoenix Suns.
Signings:
Standard contracts:

Ricky Rubio: Three years, $51MM. Signed using cap room.
Kelly Oubre: Two years, $30MM. Re-signed using Bird rights.
Frank Kaminsky: Two years, $9.77MM. Signed using room exception.
Jalen Lecque: Four years, minimum salary. Third year non-guaranteed. Fourth-year team option. Signed using cap room.
Cheick Diallo: Two years, minimum salary. Second-year team option. Signed using minimum salary exception.

Two-way contracts:
Non-guaranteed camp contracts:
Trades:
Draft picks:
1-11: Cameron Johnson — Signed to rookie contract.
1-24: Ty Jerome — Signed to rookie contract.
Departing players:
Josh Jackson
George King (two-way)
De'Anthony Melton
T.J. Warren
Other offseason news:
Salary cap situation:
Used cap space; now over the cap.
Carrying approximately $120.86MM in salary.
No cap exceptions available.
---
Story of the summer:
After unexpectedly firing general manager Ryan McDonough just before the 2018/19 season got underway, the Suns didn't name a permanent replacement until this past spring. James Jones, less than two years removed from appearing in the NBA Finals as a player, was placed in charge of Phoenix's front office, with veteran executive Jeff Bower joining him in a key management role.
Although the Suns are in rebuilding mode, their offseason moves perhaps reflected the new front office's belief that some veteran stability was necessary to complement its young prospects — and to help them develop.
It didn't initially look like Phoenix would have any real cap room to work with in free agency, but the team managed to create a little flexibility by moving T.J. Warren and Josh Jackson – two players drafted by the previous regime – in separate trades. That newly-created room was enough to sign Ricky Rubio to a three-year, $51MM deal and to take on Aron Baynes' and Dario Saric's expiring contracts.
While Deandre Ayton and Devin Booker project to be the cornerstones of the Suns for years to come, they'll need to some help to maximize their potential, and the front office identified those veterans as good candidates to move that process forward. Rubio will create easier shots for Phoenix's young duo; Baynes will serve as a veteran mentor for Ayton; and Saric's ability to stretch the floor will help open up space for both young stars to operate.
Key offseason losses:
The Suns haven't made the postseason since 2010 and haven't won more than 24 games in a season since the 2014/15 campaign. The miserable run has been protracted in part due to the club's inconsistent hit rate on high draft picks, and the 2019 offseason saw Phoenix give up on two more of those recent lottery selections.
Dragan Bender – the fourth overall pick in the 2016 draft – moved on in free agency after three underwhelming seasons with the Suns, while Jackson – 2017's No. 4 overall pick – was jettisoned in a salary-dump trade. Both players are entering their age-22 seasons, so it's fair to question whether Phoenix gave up on them too early. But neither player really showed enough on the court to inspire much optimism, and Jackson ran into legal trouble off the court.
The decision to dump Warren's salary was a more surprising one. He's under contract for the next three years at less than $12MM annually and is coming off two straight seasons in which he averaged more than 20 points per 36 minutes — he even added a reliable three-point shot to his game in 2018/19. If the Suns didn't view him as a great fit, that's fine. But giving up the No. 32 pick along with Warren just to get rid of him seemed like poor value.
The Suns lost role players Richaun Holmes and Troy Daniels in free agency too, and it seems safe to assume Jamal Crawford won't be back either. Additionally, De'Anthony Melton, whom the club was reportedly high on a year ago, was sent to Memphis as part of the Jackson trade.
Key offseason additions:
The Suns had been in the market for a point guard since the fall of 2017, when they traded Eric Bledsoe to Milwaukee, and finally found an answer at the position this summer when they locked up Rubio to a fully guaranteed three-year contract. The new backcourt duo will be a fascinating one to watch — Booker has often served as Phoenix's de facto point guard over the last two years, but he should be playing off-ball more than ever in 2019/20, since Rubio is at his best with the ball in his hands.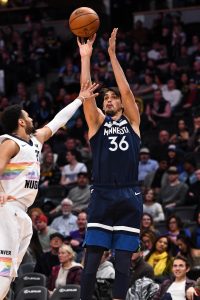 Although it hasn't been as high-profile as their search for a point guard, the Suns have also been seeking a reliable stretch four in recent years. Last year's Ryan Anderson experiment was a disaster, but the team will hope for better results from Saric and Frank Kaminsky, two frontcourt players who have shot the ball well from outside (38.1% over the last two years for Saric; 37.3% for Kaminsky).
Saric and Kaminsky should help create more room for Ayton to go to work down low. Baynes, the other incoming veteran up front, appears in position to claim the backup center minutes that Holmes played last season.
The Suns also added a pair of prospects in the first round of this year's draft, passing up a chance to select a prospect like Jarrett Culver or Coby White at No. 6 and instead trading down to No. 11, where they selected Cameron Johnson.
It was perhaps the most surprising pick of the first round — Johnson, who wasn't one of 24 players invited to the green room, was among the oldest players in this year's class and faced questions about the health of his hips. His shooting prowess (.457 3PT% as a senior) can't be denied, but the pick looked like a bit of a reach at No. 11.
Ty Jerome, the 24th overall pick in the draft, will likely be brought along more slowly than Johnson and could see time with the G League's Northern Arizona Suns in his rookie season.
Finally, one of the Suns' most notable offseason additions was new head coach Monty Williams, who was a sought-after candidate this spring, choosing Phoenix over an opportunity with the Lakers. Williams, the team's seventh head coach since the 2012/13 season began, will be tasked with getting the most out of up-and-coming youngsters like Booker, Ayton, and Mikal Bridges — and hopefully outlasting the many coaches that came before him this decade.
Outlook for 2019/20:
It's probably a little too soon to expect the Suns to seriously contend for the playoffs, but it's time for the franchise to take at least a modest step forward. Phoenix has lost between 58 and 63 games for four consecutive seasons, and Booker and Ayton are too good to remain mired at the bottom of the Western Conference standings for much longer.
The Suns' front office and coaching staff may look at the Kings' 2018/19 season as a model to emulate. After losing 49 or more games for 10 straight years, Sacramento posted a 39-43 record last season, with the team's young players leading the charge. I don't expect this year's Suns to match that win total, but it'd be a good goal for a team that won't realistically have championship aspirations.
Salary information from Basketball Insiders was used in the creation of this post. Photos courtesy of USA Today Sports Images.