Over the course of the 2019/20 NBA season, up until February's trade deadline, we're keeping an eye on potential trade candidates from around the NBA, monitoring their value and exploring the likelihood that they'll be moved. Each of these looks at possible trade candidates focuses on a specific division, as we zero in on three players from that division.
The Southwest could end up being one of the NBA's most interesting divisions as the trade deadline approaches. The Mavericks and Rockets are headed for the postseason and may be motivated to make roster upgrades. On the other end of the spectrum, the Grizzlies were always willing to sell, and disappointing seasons may clear the way for the Spurs and Pelicans to join them as sellers.
After initially identifying three trade candidates from the Southwest last month, we're examining three more today. Let's dive in…
Jrue Holiday, G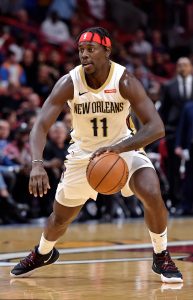 New Orleans Pelicans
$26.2MM cap hit; $26.2MM cap hit in 2020/21; $27.1MM player option for 2021/22

Marc Stein of The New York Times injected some intrigue into this season's trade market on Tuesday when he suggested that the Pelicans no longer view Jrue Holiday as untouchable. A two-time All-Defensive player and a former All-Star, Holiday is capable of playing on or off the ball and may be the most appealing trade chip on the market this winter.
Of course, just because the Pelicans are open to listening to inquires doesn't mean they'll simply take the best offer they get for Holiday at the deadline. It will likely require a substantial package to pry him out of New Orleans, particularly since he's under contract for at least one more year beyond this season — the Pels could wait until the offseason or even the 2021 deadline to shop Holiday more aggressively.
If the Pelicans do seriously consider a deal this season, I'd expect the team to seek a package with a similar structure to the one they got for Davis, featuring a mix of young players and draft picks. The Nuggets, Heat, and Timberwolves are among the teams that should be motivated to pursue Holiday and might have the assets to get something done.
DeMar DeRozan, SG
San Antonio Spurs
$27.7MM cap hit; $27.7MM player option for 2020/21

Another former All-Star, DeRozan almost certainly won't be as sought-after a trade target as Holiday, even if the Spurs convey a willingness to move him. He's not a strong defender and his limitations from beyond the arc will turn some teams off.
For instance, Orlando is in need of scoring help and reportedly expressed interest in DeRozan, but given their roster construction, the Magic would likely prefer a player who can stretch the floor and help improve their spacing. DeRozan isn't that player.
DeRozan's contract also complicates matters. A team focused on 2021 flexibility may like the idea of acquiring the veteran guard and having him exercise his 2020/21 player option to keep him around for the next year-and-a-half. But there's no guarantee DeRozan won't opt out at season's end, so a potential trade partner would have to be comfortable with either losing him in 2020 or ponying up for a new contract at that time.
Throw in the fact that the Spurs haven't made a midseason trade in nearly six years and there are plenty of factors working against a DeRozan deal. But if San Antonio continues to slip out of playoff contention, it's an idea the team will have to at least consider.
Jae Crowder, F
Memphis Grizzlies
$7.8MM cap hit; UFA in 2020

Andre Iguodala has been the most-discussed trade candidate in Memphis, but teams in need of help on the wing may end up pivoting to Crowder instead.
Unlike Iguodala, Crowder has actually played this season, averaging more than 31 minutes per game in 26 starts for the Grizzlies. It hasn't been one of his best seasons – his shooting line has slipped to .376/.314/.746 – but Crowder is averaging career-best rates in rebounds and assists and remains capable of filling a three-and-D role.
Perhaps most importantly, his expiring contract has a cap charge nearly $10MM less than Iguodala's $17MM+ figure. A non-taxpaying team would only have to send out about $4.4MM in salary to meet the salary-matching requirements for Crowder, which would be much more realistic for several contending teams that lack expendable mid-level contracts.
Revisit the rest of our 2019/20 Trade Candidate series right here.
Photo courtesy of USA Today Sports Images.