The NBA's new league year is set to begin on Sunday night, and this year's free agent period should be a fun one. Several big-market teams have enough cap room for one or more stars, and as cap expert Keith Smith notes (via Twitter), the 2019 free agent class projects to be the biggest in NBA history in terms of total players hitting the market.
Listed below are our top 50 free agents for the 2019/20 NBA season. The players on this list are on track to become free agents tonight, though they won't be able to officially finalize new deals until July 6.

Our rankings take into account both a player's short-term and long-term value. If we were to consider solely a player's worth for the 2019/20 season, a veteran like J.J. Redick would likely place higher, while younger free agents with upside, such as Terry Rozier, might be ranked a little lower.
Our top-50 list is a tag-team effort, with Clark Crum's rankings incorporated along with my own.
In addition to the players listed below, there are plenty of other notable free agents available this summer. You can check out our breakdowns of free agents by position/type and by team for the full picture.
Here are our top 50 free agents of 2019:
---
1. Kawhi Leonard, F, Raptors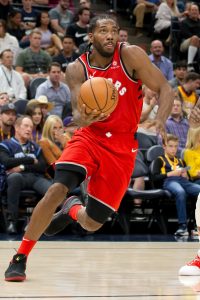 In rampaging through the Magic, Sixers, Bucks, and Warriors en route to an NBA championship, Leonard made a strong case for the title of Best Player in the World. He'll get as much money and as many years as league rules allow from any team he wants to join. Leonard's suitors include the Raptors, Lakers, Clippers, and Knicks.
2. Kevin Durant, F, Warriors
Leonard's prime competitor for that Best Player in the World title, Durant earns the second spot on this list despite being in the very early stages of the recovery process from a torn Achilles. Even though he'll miss the entire 2019/20 season, he still has a chance to get the biggest free agent contract of the summer if he returns to the Warriors on a five-year, $221.6MM deal. He's also expected to consider the Clippers, Nets, and Knicks, with his decision set to come tonight.

3. Kyrie Irving, G, Celtics
It was a tumultuous year in Boston, and there are questions about Irving's attitude and locker-room influence, but it's hard to deny his on-court production (23.8 PPG, 6.9 APG, .487/.401/.873 shooting). Irving is considered very likely to sign a four-year, maximum-salary deal with the Nets.
4. Jimmy Butler, G/F, Sixers
After taking a back seat to his star teammates at times in Philadelphia, Butler showed in the Eastern Semifinals against the Raptors why he's considered a max-salary player in his own right. Butler was the Sixers' most consistent player in those seven games, going toe-to-toe with Kawhi Leonard and helping push Toronto to the limit in the toughest series of their title run. The Rockets and Heat are both pursuing sign-and-trade possibilities with Butler.
5. Klay Thompson, G, Warriors
Like his teammate Durant, Thompson won't be healthy to start the 2019/20 season after suffering a major leg injury in the NBA Finals. And as is the case with Durant, a major injury doesn't really diminish Thompson's value. Despite his torn ACL, he's expected to reach a five-year, maximum-salary deal with the Warriors.