The Hawks traded for one veteran today but are no longer pursuing another, according to Chris Haynes of Yahoo Sports, who reports that Atlanta has ended its negotiations with the Pistons for center Andre Drummond.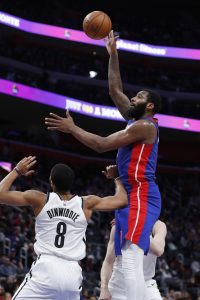 While both sides were initially hopeful that they could work out a deal, Atlanta has decided to stay patient, recognizing that there will be chances to improve this summer in the draft and during the free agency period, sources tell Haynes.
According to Haynes, the Hawks and Pistons discussed a swap that would have sent a first-round pick, Damian Jones, and an expiring contract (either Chandler Parsons' or Allen Crabbe's) to Detroit in exchange for Drummond.
Crabbe was included in the deal the Hawks completed today with the Timberwolves for Jeff Teague, but Atlanta could've acquired Drummond without him, so it doesn't appear that wasn't a factor in the club's decision to end trade talks with Detroit.
While the Hawks are no longer pursuing a trade for Drummond, that doesn't mean their interest in him has disappeared. The Pistons' big man will be one of Atlanta's top targets in free agency if the team is still seeking a long-term answer at center at that point, sources tell Haynes. Thunder center Steven Adams, who has previously been linked to the Hawks, is still on the team's radar and may be a target at the trade deadline or in free agency, Haynes adds.
According to Basketball Insiders' data, the Hawks only have about $27MM in guaranteed money on their books for next season. That figure doesn't include Jabari Parker's $6.5MM player option or cap holds for free agents, including potential RFAs DeAndre' Bembry and Jones. But even after accounting for those costs, Atlanta will have more than enough cap space to aggressively pursue Drummond, Adams, or any other players they like.
The Pistons, meanwhile, continue to actively field inquiries on Drummond, according to Haynes. The Celtics, Mavericks, and Raptors were among the other teams said earlier this month to have interest in the NBA's leading rebounder, though based on their assets and movable contracts, none of those clubs seemed to be as ideal a trade partner as Atlanta.
Photo courtesy of USA Today Sports Images.