Damion Lee's long-awaited promotion to the Warriors' 15-man roster is now official, with the team announcing the move today in a press release.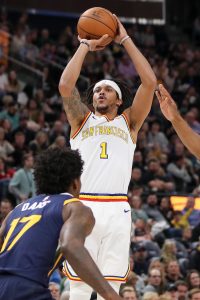 Lee, who was previously on a two-way contract, signed a new three-year deal with a partial guarantee for the 2020/21 season, tweets Shams Charania of The Athletic. Next season's partial guarantee will be worth $600K, per ESPN's Bobby Marks (Twitter link).
The promotion had been expected since last Tuesday, when the team released Marquese Chriss in order to make room under its hard cap to sign Lee. For his part, Chriss has returned to the team on a two-way contract, essentially swapping places with Lee.
Lee, who is Stephen Curry's brother-in-law, has been a regular rotation player all season long for the injury-plagued Warriors, averaging 12.3 PPG, 5.3 RPG, and 2.3 APG with a solid shooting line of .407/.360/.877 in 26 games (13 starts). The 27-year-old had exhausted the 45-day NBA limit on his two-way deal, but will no longer face those restrictions on his new standard contract.
Golden State has had little financial wiggle room all season long due to its hard cap and will now be approximately $394K below the threshold, according to Marks (Twitter link). Marks notes that the Warriors will be able to sign a 15th man to a rest-of-season contract as of March 4 if no trades or 10-day signings before then affect the club's cap sheet.
The Warriors were able to sign Lee to a three-year, minimum-salary contract by using their mid-level exception.
Photo courtesy of USA Today Sports Images.