The NBA went nearly three-and-a-half months without a single roster move being completed, as league business was put on hold during its coronavirus-related hiatus. However, that roster freeze was lifted last Tuesday (June 23), allowing the 22 teams going to Orlando this summer and the eight teams whose seasons are over to complete certain transactions during the next week.
Now that the transaction window has closed (as of 11:59pm ET on June 30), certain moves related to substitute players will still be permitted, as we detailed on Tuesday. In fact, today could be somewhat busy, as clubs who have already reached agreements with substitute players make those deals official after noon eastern time. However, the standard signings and two-way conversions that were permitted during the last week are now over for the season.
Listed below is a recap of the moves completed from June 23-30 during the NBA's transaction window. Again, these are only transactions that become official this week, which is why substitute-player signings like J.R. Smith (Lakers) or Trey Burke (Mavericks) aren't listed.
---
Brooklyn Nets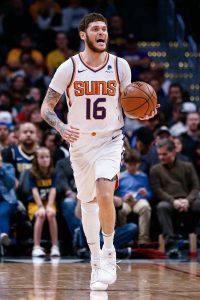 Swapping in Johnson for Pinson will be the first of many changes the Nets make to their summer roster. Wilson Chandler and DeAndre Jordan have opted out and Spencer Dinwiddie's status is up in the air, so Brooklyn will have at least a couple replacement players to sign — Justin Anderson is expected to be one.
Johnson's contract is a rest-of-season deal, so he'll be an unrestricted free agent this fall.
Cleveland Cavaliers
The Cavaliers entered the transaction window with a pair of open spots on their 15-man roster. They filled one with an outside signing (Bell) and promoted one of their two-way players (Wade) to occupy the other.
Both players received more than the minimum for the rest of 2019/20, with Wade getting $375K while Bell got $250K. In exchange, the Cavs get some flexibility on both contracts — Bell has a non-guaranteed salary for 2020/21, while Wade has three non-guaranteed seasons on his deal, through 2022/23.
Denver Nuggets
The Nuggets thought highly enough of Dozier to sign him to a new multiyear contract that includes more than $1MM in guaranteed money, which means he'll get a significant partial guarantee on his 2020/21 salary. According to Jeff Siegel of Early Bird Rights (Twitter link), that partial guarantee is worth about $1.2MM and the deal includes a non-guaranteed salary for '21/22.
Cook, meanwhile, slides into Dozier's two-way slot as a replacement and will be a free agent at season's end.
Detroit Pistons
The Pistons had a full roster when the NBA went on hiatus, but because Donta Hall's 10-day contract has since expired, they opened up a spot during the transaction window. They used it on Patton, whose new deal reportedly includes a non-guaranteed second year. The signing was Troy Weaver's first move as Detroit's general manager.
Houston Rockets
The Rockets made one of the more curious transactions of the last week, signing Nwaba to a two-year deal that reportedly includes $900K for this season, despite the fact that the swingman is still recovering from an Achilles tear and won't be available in Orlando. Houston apparently viewed Nwaba as an ideal three-and-D fit and was willing to pay him nearly $1MM up front to get a team option on him for 2020/21.
Los Angeles Clippers
Noah was just three days into a 10-day contract with the Clippers when the season was suspended in March. That deal was always viewed as a trial run that would likely lead to a rest-of-season commitment, so it came as no surprise when L.A. made that rest-of-season commitment last week.
Memphis Grizzlies
Like Noah, Tolliver was on a 10-day contract before the season was suspended. And like Noah, his team – the Grizzlies – wanted to bring him back on a rest-of-season deal to fill its final open roster spot.
New York Knicks
New Knicks president of basketball operations Leon Rose was active on the waiver wire this week, making the only two claims of the transaction window. Pinson has a team option for 2020/21, while Harper will be eligible for restricted free agency. Trier, meanwhile, had been up for restricted free agency but now hits the unrestricted market early.
Oklahoma City Thunder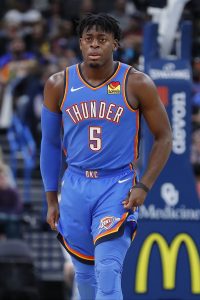 The conversion of Dort's contract was one of the least surprising moves of the week, as he has emerged into a consistent starter on the wing for the Thunder. Oklahoma City got him on a pretty team-friendly four-year minimum-salary deal, which runs through 2022/23. It's fully guaranteed for '20/21 with partial guarantees on the final two years.
Hall, a former Thunder draft pick, slides into Dort's vacated two-way slot and will be a free agent at season's end.
Philadelphia 76ers
The Sixers didn't have any openings on their 15-man roster, but had a two-way slot available to be filled. They used it to add more shooting depth — Broekhoff, who will be a free agent this fall, knocked down 40.3% of his three-point attempts in a part-time role in two NBA seasons.
Phoenix Suns
The Suns' release of Harper was more than three months in the making and finally became official last week. Phoenix didn't end up filling his two-way slot, but signed Payne to a two-year deal to take the open spot on the 15-man roster. Payne will add more backcourt depth for the restart this summer and the Suns will have the option of bringing him back for 2020/21 as well.
Sacramento Kings
The Kings will enter the resumption of the season 3.5 games back of Memphis for the final playoff spot in the West. With an open roster spot, they prioritized a player who could contribute immediately, settling on Brewer, who played for Sacramento last season. He'll give the Kings more depth on the wing, having signed a rest-of-season contract.
San Antonio Spurs
Another challenger for that No. 8 seed in the West, the Spurs needed some frontcourt depth after losing LaMarcus Aldridge to a shoulder injury that will sideline him for the rest of the 2019/20 season. Zeller represents a safe veteran option. His deal with San Antonio includes a non-guaranteed salary for next season.
Photos courtesy of USA Today Sports Images.