Hoops Rumors is previewing the 2020 offseason for all 30 NBA teams. We're looking at the key questions facing each club, as well as the roster decisions they'll have to make this fall. Today, we're focusing on the Sacramento Kings.

---
Salary Cap Outlook
The Kings might be able to open up a little cap room by renouncing free agents and waiving non-guaranteed players, but they're unlikely to go in that direction. Any attempt to re-sign Bogdan Bogdanovic, who has a $16MM cap hold, will all but ensure that Sacramento operates as an over-the-cap team this offseason, barring major cost-cutting moves.
The Kings should also have the flexibility to make use of their non-taxpayer mid-level exception ($9.26MM) and/or bi-annual exception ($3.62MM), if they so choose.
Our full salary cap preview for the Kings can be found right here.
---
Roster Decisions To Watch
Options:
Non-Guaranteed Contracts:
Two-Way Contracts:
Free Agents:
---
2020 Draft Assets
First Round:
Second Round:
No. 35 overall pick
No. 43 overall pick
No. 52 overall pick
In addition to their own draft picks at No. 12 and No. 43, the Kings picked up a pair of extra second-rounders in past trades.
That No. 35 overall selection is the Pistons' pick, which Sacramento acquired from Phoenix on draft night in 2016 in the same deal that saw the Suns move up to No. 8 for Marquese Chriss while the Kings acquired Bogdan Bogdanovic's draft rights.
The No. 52 pick is from the Rockets as a result of a three-team Iman Shumpert trade at the 2019 deadline.
---
Three Key Offseason Questions
1. Are Buddy Hield's days in Sacramento numbered?

Following a breakout 2018/19 performance, Hield had another productive season in '19/20, averaging 19.2 PPG and shooting 39.4% on an eye-popping 9.6 three-point attempts per game. However, Hield's first season under new head coach Luke Walton was much more tumultuous than those numbers made it seem.
In December, upset about hardly seeing any fourth-quarter action in a pair of close losses, Hield told reporters there were "trust issues" in Sacramento. Less than a month later, in January, he was removed from the Kings' starting lineup in favor of Bogdan Bogdanovic. And a few weeks after that, in mid-February, a report from The Athletic suggested it wouldn't be a huge surprise if Hield requests a trade in the offseason.
A second-half surge from the Kings, with Bogdanovic thriving in the starting lineup and Hield doing the same off the bench, temporarily quieted speculation about the shooting guard's future. But a disappointing showing in Orlando this summer – along with the firing of general manager Vlade Divac – helped reignite that speculation.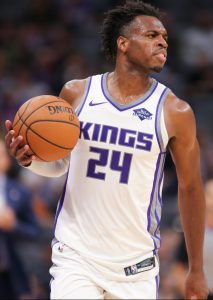 Hield's new contract extension – which starts at nearly $25MM before declining in later seasons – will go into effect in 2020/21. Having already committed big money to Hield and Harrison Barnes, Sacramento want to lock up Bogdanovic with a lucrative long-term contract of his own, and De'Aaron Fox's payday is around the corner too. Unless they want to lock themselves into this core going forward, common sense suggests that the Kings may have to shop one of their highly-paid players.
Hield and Barnes are the most logical candidates to be moved, and Hield would be the more valuable asset of the two on the trade market, given his three-point prowess and his positional overlap with Bogdanovic. The Kings could probably get a pretty decent package in return for him — but will they want to move him?
It's too early to get a sense of whether Sacramento will seriously consider a Hield trade this fall. But it certainly wouldn't come as a shock to hear his name pop up in trade rumors. Divac was motivated to see Hield succeed in Sacramento since he was the centerpiece of the DeMarcus Cousins trade, but with Divac no longer in the picture, the new decision-makers in Sacramento may not feel the same attachment to the veteran sharpshooter.
2. Who will assume long-term control of basketball decisions for the Kings?

Speaking of the new decision-makers in Sacramento, for now we only know who is making those calls in the interim. That'd be former advisor Joe Dumars, who was named the team's executive vice president of basketball operations in the wake of Divac's departure.
It's been difficult to parse exactly what's happening in the Kings' front office. Multiple reports suggested that Divac's ouster occurred as a result of team owner Vivek Ranadive asking him to surrender control of basketball decisions to Dumars. When Divac was unwilling to accept a demotion, he was let go and Dumars was – at least temporarily – promoted.
However, a subsequent report suggested that Dumars won't be a candidate for the Kings' permanent general manager job. That report indicated he'd be involved in the hiring process and would interview candidates along with Ranadive. But the plan, apparently, is for the newly-hired GM to gain full control of roster moves and report directly to Ranadive. It's unclear what role Dumars would have with the franchise after that.
If the new general manager is going to have long-term control of the team's basketball decisions, it would make sense for Sacramento to conduct its search as soon as possible in order to ensure that the new GM can have a say in this offseason's roster decisions. But the Kings are said to be in no rush to finalize a hire before the draft and free agency.
That puts added pressure on Dumars and the current group in the front office to make quality decisions this fall as they tackle several major issues. If Dumars makes a questionable lottery pick, overpays to retain Bogdanovic, or doesn't get great value in a Hield trade, the job may look a little less appealing to GM candidates who will have to live with the effects of those decisions for the next few years.
3. Will De'Aaron Fox get a maximum-salary extension offer?

Perhaps the most important decision of the Kings' offseason relates to their promising young point guard. Fox, 22, had an up-and-down season in 2019/20, battling health issues and struggling to knock down three-pointers (he made just 29.2% after hitting 34.5% in his first two seasons).
However, he established new career highs in PPG (21.1) and FG% (.480), flashed star potential, and was especially effective during the summer restart. As some of his teammates struggled, Fox averaged 26.2 PPG and 7.3 APG in six games in Orlando. Those six summer seeding contests represent the last look the Kings will get at Fox in game action before he becomes eligible for a rookie scale extension this fall.
The Kings and Fox have reportedly already had some preliminary discussions about a new deal, and Fox has said he's interesting in signing an extension before his fourth season. The question now is how high Sacramento is willing to go with its offer.
If the Kings are ready to offer Fox a five-year max deal, negotiations should be quick and painless. There would be little reason for the young point guard to wait for restricted free agency in 2021 unless he really doesn't want to be in Sacramento, and there has been no indication that's the case.
If the Kings don't offer Fox the max, things could get a little trickier. Amidst a global pandemic, with league revenues very much up in the air, would the 22-year-old be willing to accept a more team-friendly deal? Or would the team risk rubbing him the wrong way with such an offer, making the situation unnecessarily contentious?
The guess here is that the Kings will offer Fox a five-year max. That's essentially the same deal that Ben Simmons and Jamal Murray each signed a year ago, starting at 25% of the cap. And while Fox has yet to make an All-Star team like Simmons or show he can be a big-time playoff scorer like Murray, the Kings have signaled during the last couple years that they believe in Fox's potential and are willing to build their roster around him. I don't expect they'll risk complicating the relationship by low-balling him in extension talks.
Information from Basketball Insiders and ESPN was used in the creation of this post. Photos courtesy of USA Today Sports Images.