It has been a busy year on the NBA's head coaching carousel, with four teams having hired new coaches since the hiatus originally began in March and five more clubs still in the market for a new coach.
In the space below, we're checking in on where those five active searches stand and passing along what we know so far about the most likely candidates for those openings.
While this post is just meant to provide a snapshot of where things stand as of October 12, you can continue to follow the NBA's coaching carousel in the coming weeks via our tracker.
Let's dive in…
---
Houston Rockets
We just passed along an update on the Rockets' search earlier today. It sounds like the team's interview process currently includes seven candidates, several of whom have already spoken to the team: Tyronn Lue, Jeff Van Gundy, Kenny Atkinson, Stephen Silas, Wes Unseld Jr., David Vanterpool, and John Lucas.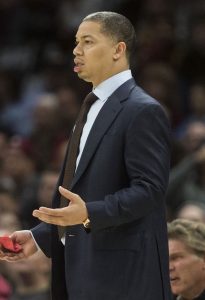 Although assistant coaches Sam Cassell and Chris Finch have also been linked to the job, it doesn't sound as if they've interviewed for it. For now, the seven candidates listed above appear to make up Houston's pool of contenders, though it's possible the team eventually casts a wider net.
Lue and Van Gundy were two of the first candidates connected to the position even before Mike D'Antoni parted ways with the team, and general manager Daryl Morey was reportedly interested in JVG a few years ago, when the Rockets ultimately went with D'Antoni. I'd probably view Lue and Van Gundy as the favorites, but if salary becomes an issue at all, perhaps the club will instead opt for a potential first-timer such as Silas, Unseld, or Vanterpool.
Indiana Pacers
ESPN's Brian Windhorst previously reported that the Pacers had talked to over 20 candidates about their head coaching job. It's not clear if all 20+ of those candidates had formal interviews with Indiana or if some of those conversations were more casual in nature, but it's clear the team is being thorough as it seeks a replacement for Nate McMillan.
Based on a report from ESPN's Adrian Wojnarowski earlier this month, it sounds as if the Pacers have gotten serious about the interview process within the last two weeks. Dave Joerger and Darvin Ham were reportedly among the candidates to emerge during that time, though it's unclear how aggressive Indiana has been in narrowing down its list of finalists. Joerger and Ham may have plenty of company in that group of "finalists."
Chris Finch and Chauncey Billups are reportedly among the other candidates to meet with the Pacers in the last couple weeks, and Scott Agness of VigilantSports.com tweeted on Sunday night that the team will have an opportunity to meet with Heat assistants Dan Craig and Chris Quinn now that the Finals are over. The full list of candidates linked to the Pacers' job can be found within our tracker.
Los Angeles Clippers
There hasn't been a ton of chatter about the Clippers' opening since Doc Rivers' surprising departure two weeks ago. His lead assistant, Tyronn Lue, was identified as the early frontrunner, but those reports came with the caveat that the Clippers do intend to conduct a full-fledged search.
Jeff Van Gundy, Mike Brown, Darvin Ham, and Wes Unseld Jr. have been mentioned as possible candidates for L.A. With Kawhi Leonard and Paul George only a year away from free agency and the Clippers in championship-or-bust mode, the club will spare no expense on its new head coach, so it will be fascinating to see which direction Steve Ballmer and Lawrence Frank will go.
Frank is coming off an Executive of the Year win and hasn't had a chance to pick his own head coach yet during his tenure with the Clippers (Rivers' stint predated Frank's arrival in L.A.). In theory, he should have some leeway to take a risk and go off the board with an unconventional Steve Nash-esque hire if he feels confident that's the best path to take. But with such lofty expectations facing the Clippers in 2020/21, Frank will want to be absolutely sure he gets this hire right.
New Orleans Pelicans
Back when the Pelicans dismissed Alvin Gentry in August, one team (the Knicks) had already completed a coaching search and only one other (the Bulls) had a search in progress. Since then, the Bulls have finalized a hire, six more teams have parted ways with their head coaches, and two of those six teams (Brooklyn and Philadelphia) have made new hires of their own.
In other words, the Pelicans appear very willing to take their time with this process.
The lack of reports about the New Orleans job is somewhat surprising. Jason Kidd, Kenny Atkinson, and Jacque Vaughn were cited as possible candidates around the time of Gentry's firing, but there haven't been any real updates on them in recent weeks. Mike D'Antoni was said to be a dark-horse candidate before he left Houston, and that rumor popped up again when the Rockets parted ways with him, but it's been quiet on that front as of late.
There are two scenarios I find most plausible here. One is that Tyronn Lue, who worked under Pelicans executive VP of basketball operations David Griffin in Cleveland, is New Orleans' top choice and the team is waiting for him to go through the process with the Rockets and Clippers and make a decision.
The other viable scenario? Maybe the Pelicans are just playing things very close to the vest as they consider their options and will surprise us at some point with their decision.
Oklahoma City Thunder
If the silence around the Pelicans' coaching job has been loud, the silence surrounding the Thunder's vacancy has been deafening.
It has now been over a month since Oklahoma City and Donovan parted ways, and we've essentially heard nothing concrete since then about potential replacements. ESPN's Brian Windhorst did name David Vanterpool, Adrian Griffin, and Will Hardy as possible candidates at one point, but that sounded like it could've just as easily been informed speculation rather than anything solid.
Given the reported motivation for Donovan's departure, it seems like a safe bet that the Thunder will be looking to hire an up-and-coming coach who doesn't mind enduring a rebuild and who can grow and develop along with the team's young core. Given the lack of info coming out of Oklahoma City on the search so far, it's unclear if the team is seriously clamping down on any leaks or if the search process just hasn't gotten serious yet.
---
Photo courtesy of USA Today Sports Images.