6:38pm: The Lakers have officially re-signed Davis to his new five-year max deal, the team announced in a press release.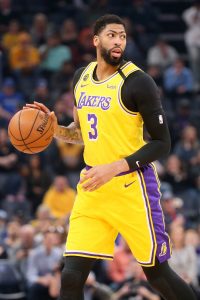 "In the Orlando bubble, Anthony Davis proved he is one of the game's most complete and dominant two-way players," general manager Rob Pelinka said in a statement. "Now, Lakers fans get to watch AD continue to grow and lead our franchise for years to come. This is truly a blessed moment for Lakers Nation."
---
6:44am: The Lakers are finalizing a five-year, maximum-salary contract with star big man Anthony Davis, Rich Paul of Klutch Sports tells ESPN's Adrian Wojnarowski. The deal could be signed as soon as today, Woj notes.
Davis' new five-year contract will have an overall value of approximately $189.9MM. As our breakdown of maximum salaries for 2020/21 shows, AD will earn $32.74MM this season and will receive 8% raises, increasing the value to $43.22MM by year five. According to Wojnarowski, the deal will include an early termination option prior to that fifth year, giving the seven-time All-Star the chance to opt out in 2024.
Davis entered free agency as the No. 1 player on the market and was always expected to re-sign with the defending champion Lakers on a new max contract. However, there was an expectation that he'd take his time to consider all his options in terms of the length and structure of that deal.
Most league observers believed Davis would opt for a shorter-term contract that would allow him to re-enter free agency in 2022, when he has 10 years of NBA experience under his belt and qualifies for a starting salary worth 35% of the salary cap instead of 30%. As Wojnarowski writes, the former No. 1 overall pick did consider several short-term contract scenarios as well as long-term options.
Ultimately, as Bobby Marks of ESPN tweets, Davis opted for long-term security and the largest possible chunk of guaranteed money he was eligible to receive at this point. He'll still only be 31 years old in 2024 when he can re-enter free agency, so he should be in good position to sign a new max deal – starting at 35% of the cap – at that point.
Davis' contract agreement comes on the heels of LeBron James reaching a deal with the Lakers to extend his contract through 2023. A report in the wake of that news indicated that James and Davis were making their contract decisions independent of one another, and the terms of AD's new deal offer further confirmation of that. Rather than having one or both of their superstars reach free agency in 2021, the Lakers now have James locked up through '23 and Davis under contract through at least '24.
In his first year as a Laker following his trade from New Orleans, Davis showed in 2019/20 why Los Angeles was willing to give up a massive haul of players and picks to acquire him. He averaged 26.1 PPG, 9.3 RPG, 3.2 APG, and 2.3 BPG in 62 regular season games (34.4 MPG), finishing sixth in Most Valuable Player voting. He was also the anchor of the Lakers' defense and was the runner-up in the Defensive Player of the Year vote.
Having appeared in just 13 playoff games in his seven seasons prior to 2020, Davis came up big for L.A. during the team's championship run, recording 27.7 PPG, 9.7 RPG, and 3.5 APG with an impressive .571/.383/.832 shooting line in 21 postseason contests.
With Davis officially off the board, all 50 of our top free agents of 2020 have now reached contract agreements with NBA teams.
Photo courtesy of USA Today Sports Images.