JANUARY 22: The trade is now official, according to press releases from the Rockets and Cavaliers. Houston confirmed in its announcement that Clemons has been released to make room for Porter.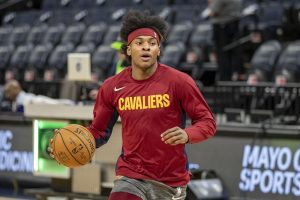 "After careful and thoughtful evaluation, we made the very difficult and collective decision to make this trade," Cavs GM Koby Altman said in a statement. "Given the culture and environment we have worked to cultivate here in Cleveland, we feel this move is in everyone's best interest. Kevin has a bright career ahead of him as a professional basketball player and, at his core, is a good person."
---
JANUARY 21: The Cavaliers are sending second-year swingman Kevin Porter Jr. to the Rockets, Shams Charania of The Athletic reports (via Twitter).
In exchange, the Cavs will receive a future protected second-round draft pick from Houston, ESPN's Adrian Wojnarowski adds (via Twitter). Tim MacMahon of ESPN tweets that the pick is top-55 protected and will most likely never actually be conveyed to Cleveland.
As Chris Fedor of Cleveland.com notes, the primary benefit of the deal for the Cavs is to open up a roster spot and to move off Porter's guaranteed rookie-scale salary for this season ($1.72MM) and 2021/22 ($1.78MM). Since Houston can absorb Porter's salary into a traded player exception, Cleveland won't have to take a player back in the deal.
After throwing a locker room tantrum on January 15 when he discovered his locker had been relocated, Porter was instructed by the Cavaliers to clean out his locker and expect to be waived or traded.
Porter, who initially dropped in the 2019 draft due to off-court concerns, has had a tough second season. In November, he was arrested on charges of mishandling a firearm (a felony), plus driving without a license and marijuana possession (both misdemeanors). Last month, a grand jury cleared Porter of all charges.
Porter has not suited up for the Cavaliers at all this season. During a solid rookie outing, however, the No. 30 2019 draft pick out of USC impressed with averages of 10.0 PPG, 3.2 RPG, 2.2 APG and 0.9 SPG across 50 contests.
The Rockets, now in asset-accrual mode after sending perennial MVP candidate James Harden to the Nets in a four-team trade last week, are taking a flyer on a talented player in this deal. The hope, according to Fedor and MacMahon (Twitter link), is that veteran player development coach John Lucas can help Porter get his career back in track in Houston.
In order to open up a roster for Porter, the Rockets will waive injured guard Chris Clemons, per Jonathan Feigen of The Houston Chronicle (Twitter link).
Clemons' minimum salary for 2020/21 was initially non-guaranteed, but Houston will be obligated to pay it in full after he suffered a season-ending Achilles tear. The Rockets are in better position to eat that money following the Harden deal — team salary is now comfortably below the luxury tax line rather than above it, and the club is no longer right up against its hard cap.
Photo courtesy of USA Today Sports Images. Luke Adams contributed to this story.