The Bulls overhauled both their front office and their coaching staff in 2020, replacing longtime basketball operations executives John Paxson and Gar Forman with Arturas Karnisovas and Marc Eversley, who in turn replaced head coach Jim Boylen with Billy Donovan.
Despite the leadership changes, the Bulls didn't turn over many spots on a roster that went 22-43 in 2019/20, so expectations for Chicago were modest entering '20/21 — oddsmakers projected them to win no more than 30 games.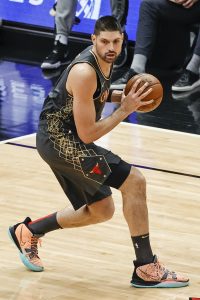 But the team aimed higher. Firmly in the play-in mix more than halfway through the season, the Bulls' new top decision-makers decided to take a big swing, sending a pair of future first-round picks and former lottery selection Wendell Carter to Orlando in a trade for Nikola Vucevic.
The short-term results weren't great. The Bulls, 19-24 at the time of the trade, failed to make any headway with Vucevic on the roster, finishing the season on a 12-17 run and missing out on a play-in spot. To make matters worse, the top-four protected 2021 pick the Bulls traded to the Magic in the blockbuster deadline deal landed at No. 8.
Still, the Bulls' front office remains confident that the Vucevic acquisition will pay dividends going forward, once the All-Star center has a full offseason and training camp to get comfortable with his new team. Chicago will enter the 2021/22 season seeking its first playoff berth since 2017.
---
The Bulls' Offseason Plan:
With no first-round pick at their disposal, the Bulls will turn to free agency or the trade market to try address their point guard position, which has been an Achilles heel for the franchise since Derrick Rose's All-Star days.
The good news is that there's no shortage of options available in free agency this summer — when we ranked our top 20 free agents at the start of June, seven players on our list were point guards. Some of those veterans, such as Chris Paul and Mike Conley, may end up simply returning to their current teams, but the Bulls have the cap flexibility to pursue the ones who will test the market, including perhaps Lonzo Ball, Dennis Schröder, and Spencer Dinwiddie.
The Bulls also face decisions on Lauri Markkanen, a restricted free agent, and Thaddeus Young and Tomas Satoransky, whose salaries for 2021/22 are only partially guaranteed.
Young is a fine value at $14MM and Chicago should guarantee his contract, which would be movable even if he's not in the team's plans going forward. Markkanen and Satoransky seem less likely to return, though a sign-and-trade involving Markkanen is a possibility.
Finally, while Chicago doesn't necessarily have to address the situation this offseason, LaVine's contract is another storyline worth watching closely. He's entering the final year of his deal and will be extension-eligible this offseason, but his maximum-salary extension (approximately $105MM over four years) is worth less than what he could expect as a free agent.
Assuming the Bulls have no plans to trade LaVine and he has no plans to accept that extension, there are two ways the situation could play out — the team could wait until he reaches free agency in 2022 to work out a new contract, or could renegotiate his 2021/22 salary in order to sign him to an extension worth more than his current four-year, $105MM max. A renegotiation, however, would require cap space that might be better spent on upgrades to the roster around LaVine.
---
Salary Cap Situation
Note: Our salary cap projections are based on a presumed 3% increase, which would result in a $112.4MM cap for 2021/22.
Guaranteed Salary
Nikola Vucevic ($24,000,000)
Zach LaVine ($19,500,000)
Al-Farouq Aminu ($10,183,800) 1
Patrick Williams ($7,422,000)
Thaddeus Young ($6,000,000) — Partial guarantee. Non-guaranteed portion noted below. 2
Coby White ($5,837,760)
Troy Brown ($5,170,564)
Tomas Satoransky ($5,000,000) — Partial guarantee. Non-guaranteed portion noted below. 3
Total: $83,114,124

Player Options
Team Options
Non-Guaranteed Salary
Thaddeus Young ($8,190,000) 2
Tomas Satoransky ($6,000,000) 3
Total: $14,190,000

Restricted Free Agents
Lauri Markkanen ($9,026,852 qualifying offer / $20,194,524 cap hold): Bird rights
Javonte Green ($1,897,476 qualifying offer / $1,897,476 cap hold): Early Bird rights
Total (cap holds): $22,092,000

Two-Way Free Agents
Draft Picks
No. 38 overall pick (no cap hold)
Extension-Eligible Players
Troy Brown (rookie scale)
Al-Farouq Aminu (veteran)
Zach LaVine (veteran)
Tomas Satoransky (veteran)
Nikola Vucevic (veteran)
Thaddeus Young (veteran)
Unrestricted Free Agents / Other Cap Holds
Cristiano Felicio ($14,305,138): Bird rights
Daniel Theis ($9,500,000): Early Bird rights
Denzel Valentine ($8,821,320): Bird rights
Garrett Temple ($5,720,400): Non-Bird rights
Total: $38,346,858

Offseason Cap Outlook

The Bulls could conceivably operate over or under the cap this offseason. For instance, if they want to guarantee Young's salary, and perhaps re-sign free agents like Markkanen and Theis, an over-the-cap approach makes sense.
However, I expect the Bulls to seriously consider dipping below the cap instead. Even if they cut into their projected space by guaranteeing Young's salary, they could create a little extra room under the cap by waiving and stretching Satoransky's partial guarantee, or even by doing the same with Aminu. Clearing that cap room could be the most viable path to landing a point guard.
Cap Exceptions Available
Room exception: $4,910,000 5
Footnotes
Aminu exercised his player option for 2021/22.
Young's salary becomes fully guaranteed after August 2.
Satoransky's salary becomes fully guaranteed after August 2.
Because he has been on a two-way contract with the Bulls for two seasons, Mokoka is eligible for a standard minimum-salary qualifying offer.
This is a projected value. If the Bulls operate over the cap, they'd have the mid-level exception ($9.5MM), bi-annual exception ($3.7MM), and a trade exception ($2.5MM) available.
Salary and cap information from Basketball Insiders, RealGM, and ESPN was used in the creation of this post.