The Rockets entered the 2020/21 league year with – at the very least – playoff aspirations. The team was coming off a disappointing second-round exit in the 2020 postseason, but after adding Christian Wood in free agency, there was a sense that if everything broke right, the roster still had enough talent to compete for a top spot in the West and make a deep postseason run.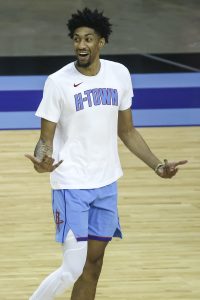 Instead, injuries, COVID-19 issues, and James Harden's trade demand tanked Houston's season almost before it began. The club managed to tread water for a little while, even after trading Harden in January, and was above .500 (11-10) as late as February 5. But injuries and a lack of star talent eventually caught up to the Rockets, who went into full-fledged seller mode by the trade deadline and finished the season by losing an incredible 45 of their last 51 games.
---
The Rockets' Offseason Plan:
Lottery night will be crucial for the Rockets, who have slightly better than 50/50 odds to keep their top-four protected pick. If that selection lands at No. 5, Houston would have to send it to Oklahoma City in exchange for No. 18. If it ends up in the top four, the Rockets will be in prime position to draft a long-term cornerstone for their rebuild.
Either way though, the Rockets will have three first-round selections, including two in the 20s. Whether they use all of those picks or end up trading one or two, general manager Rafael Stone will be under pressure to maximize their value. Virtually all of the most valuable assets the team received in the Harden deal were future picks and swaps, so Stone is betting on his ability to draft well and perhaps uncover some hidden gems during the next few seasons.
Without a ton of cap flexibility, the Rockets appear unlikely to be particularly active on the free agent market. Waiting until the second or third wave of free agency to hunt for veterans on bargains makes sense for the club — those vets could contribute in the short term and perhaps be flipped for assets at next year's trade deadline.
Stone figures to be more active in trade talks, with John Wall, Eric Gordon, D.J. Augustin, and Danuel House among the players who should be available for the right return. However, Wall and Gordon are coming off injuries and have pricey salaries, which will make it tricky for the Rockets to find decent value for them.
---
Salary Cap Situation
Note: Our salary cap projections are based on a presumed 3% increase, which would result in a $112.4MM cap for 2021/22.
Guaranteed Salary
John Wall ($44,310,840)
Eric Gordon ($18,218,818)
Christian Wood ($13,666,667)
D.J. Augustin ($7,000,000)
Danuel House ($3,894,000)
Kevin Porter Jr. ($1,782,621)
Troy Williams ($122,741) — Waived via stretch provision.
Total: $88,995,687

Player Options
Team Options
Non-Guaranteed Salary
Restricted Free Agents
Two-Way Free Agents
Draft Picks
No. 2 overall pick ($8,992,200)
No. 23 overall pick ($2,353,320)
No. 24 overall pick ($2,259,240)
Total: $13,604,760
Extension-Eligible Players
John Wall (veteran)
Danuel House (veteran)
Unrestricted Free Agents / Other Cap Holds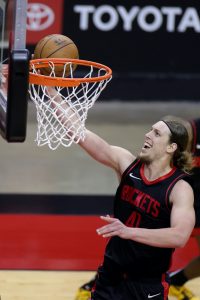 Kelly Olynyk ($20,129,474): Bird rights
Dante Exum ($18,240,000): Bird rights
David Nwaba ($1,669,178): Early Bird rights
Sterling Brown ($1,669,178): Non-Bird rights
Total: $41,707,830
Offseason Cap Outlook

With only about $89MM in guaranteed money on their books, the Rockets could theoretically have a little cap room this offseason. However, the non-guaranteed salaries for Tate and Martin will almost certainly be guaranteed and the cap holds for their first-round picks will significantly cut into their projected space.
It's possible Houston will make a trade or two to reduce team salary and generate cap room, but for the time being, we're assuming the club will operate over the cap, which would allow the front office to keep its various exceptions and to retain Olynyk's Bird rights.
Cap Exceptions Available
Mid-level exception: $9,536,000 2
Bi-annual exception: $3,732,000 2
Trade exception: $8,180,351
Trade exception: $5,019,920
Trade exception: $2,174,318
Trade exception: $1,780,152
Trade exception: $103,894
Footnotes
Martin's salary becomes fully guaranteed after August 1.
These are projected values.
Salary and cap information from Basketball Insiders and RealGM was used in the creation of this post. Photos courtesy of USA Today Sports Images.