After trading away Anthony Davis in 2019, the Pelicans moved another longtime standout during the 2020 offseason, sending Jrue Holiday to Milwaukee. While New Orleans' return in the four-team deal was heavy on draft picks that could pay off down the line, it also included veterans Steven Adams and Eric Bledsoe.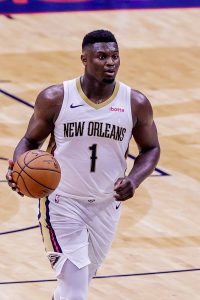 The idea was that the Pelicans weren't giving up on their goal of making the playoffs in 2021 by trading Holiday, since they were getting two productive veterans in the deal — they even extended Adams as part of the trade, locking him up for two extra seasons.
However, instead of helping lead the Pelicans to the playoffs, Adams and Bledsoe struggled to fit in New Orleans. Adams and Zion Williamson weren't a great match in the frontcourt, and Bledsoe's efficiency cratered — his .421 FG% and .687 FT% were his worst marks since his rookie year.
Throw in the fact that new head coach Stan Van Gundy wasn't able to deliver on his promise to turn the Pelicans' defense around and it's perhaps no surprise that the team didn't take a step forward in 2020/21, falling out of play-in contention during the season's final weeks.
---
The Pelicans' Offseason Plan:
Van Gundy is gone after just one year, so the first item on the Pelicans' offseason to-do list will be hiring his replacement. New Orleans is seeking a coach who can better connect with the young players on the roster — veteran assistants like Jacque Vaughn and Charles Lee are among the candidates receiving consideration.
Once the coaching search is over, president of basketball operations David Griffin will face a series of challenging offseason decisions, including the looming restricted free agencies of Lonzo Ball and Josh Hart. Both players are due for substantial raises, potentially creating a cap crunch for the Pelicans, who presumably aren't eager to pay the luxury tax and would be approaching that threshold if they bring both RFAs back on fair-market deals.
Still, the Pelicans won't want to lose their solid young players for nothing. Star forwards Williamson and Brandon Ingram have both expressed a desire to continue playing with Ball, in particular, and Hart has reportedly been a strong locker room voice for the young squad.
In order to comfortably re-sign both players and potentially use their mid-level exception, the Pelicans may explore trading Bledsoe and/or Adams to cut costs. Neither player is a positive asset at this point, but neither contract is so onerous that it can't be moved.
While it's never ideal for a rebuilding team to surrender draft picks in order to clear unwanted contracts from its cap, the Pelicans are uniquely positioned following their Davis and Holiday mega-deals to sacrifice a pick or two in a salary dump and not be significantly set back by it.
Ideally, they'd deal from their cache of second-round picks (they have four in 2021 alone), but if they need to include a protected first-rounder, the Pelicans should seriously consider giving up a selection previously acquired from the Lakers or Bucks. If they want to get back to the postseason sooner rather than later, it's worth being aggressive this summer rather than waiting another year or two for those contracts to expire.
---
Salary Cap Situation
Note: Our salary cap projections are based on a presumed 3% increase, which would result in a $112.4MM cap for 2021/22.
Guaranteed Salary
Brandon Ingram ($29,467,800)
Eric Bledsoe ($18,125,000)
Steven Adams ($17,073,171)
Zion Williamson ($10,733,400)
Jaxson Hayes ($5,348,280)
Kira Lewis ($3,822,240)
Nickeil Alexander-Walker ($3,261,480)
Wesley Iwundu ($1,824,003)
Naji Marshall ($1,517,981)
Total: $91,173,355
Player Options
Team Options
Non-Guaranteed Salary
Restricted Free Agents
Lonzo Ball ($14,359,936 qualifying offer / $27,509,455 cap hold): Bird rights
Josh Hart ($5,236,739 qualifying offer / $10,473,477 cap hold): Bird rights
Total (cap holds): $37,982,932

Two-Way Free Agents
Draft Picks
No. 10 overall pick ($4,373,160)
No. 35 overall pick (no cap hold)
No. 40 overall pick (no cap hold)
No. 43 overall pick (no cap hold)
No. 53 overall pick (no cap hold)
Total: $4,373,160
Extension-Eligible Players
Unrestricted Free Agents / Other Cap Holds
Offseason Cap Outlook

Accounting for their nine players on guaranteed contracts, Louzada's minimum-salary team option, and the cap hold for the No. 10 pick brings the Pelicans' team salary to $97MM+. It seems safe to assume the club will try to retain at least one of Ball and Hart, if not both, so New Orleans appears likely to operate over the cap.
However, with so many variables in play, it's tricky to project which exceptions the Pelicans might have access to. Re-signing Ball and Hart without cutting costs elsewhere would likely put team salary at the tax line, limiting the club to the taxpayer mid-level exception. But letting one of those RFAs go – or trading Adams and/or Bledsoe to save some money – could create enough flexibility for New Orleans to use the full mid-level and/or the bi-annual exception.
Cap Exceptions Available
Mid-level exception: $9,536,000 2
Bi-annual exception: $3,732,000 2
Trade exception: $3,897,436
Footnotes
Louzada will be eligible for restricted free agency if his option is declined.
These are projected values. If the Pelicans are at or near the tax line, they may instead have access to just the taxpayer mid-level exception ($5.9MM).
Salary and cap information from Basketball Insiders and RealGM was used in the creation of this post.