The Kings are searching for answers. This year, they extended their playoff drought to a 15th straight season, tied with the Clippers (1977-91) for the longest in NBA history. They also failed to move up in the lottery, meaning that – barring a trade – they will be picking ninth in this year's draft. To make matters worse, Marvin Bagley, the team's highest draft pick since 1989, came under fire this week for liking a tweet about getting him out of Sacramento.
It's not all bad news, however. Point guard De'Aaron Fox took a star leap this season, averaging 25+ points per game for the first time in his career and becoming the driving force of the offense. Combo guard Tyrese Haliburton, taken with the 12th pick in last year's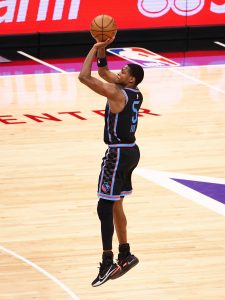 draft, was a revelation, averaging 13 PPG, 5.3 APG, and 1.3 SPG while shooting above 40% from three in 30 MPG. His stellar play earned him a berth on the All-Rookie First Team. Richaun Holmes also had a breakout year, cementing himself as a bona fide NBA starting center. The team also committed to bringing back head coach Luke Walton after a strong showing of support from the players.
While the Kings finished the season under .500 once again, their winning percentage (.431) was tied for the second-highest since 2008. While that may be a modest accomplishment, it does at least give reasons for optimism, though it wasn't a step up from last season and the Western Conference is only getting stronger around them.
---
The Kings' Offseason Plan:
The Kings' decisions will start with the draft, where they have the ninth and 39th overall picks, but there will be plenty of choices that must be made from there. General manager Monte McNair has said that the Kings will be aggressive this off-season, whether in the draft, free agency, or trade.
As far as trades go, there are three clear candidates: Buddy Hield, Harrison Barnes, and Bagley.
Hield, at 28 years old, is the third-oldest player under contract in Sacramento and is coming off two successive seasons that were less productive than the one before them. He also doesn't fit in a lineup with Fox and Haliburton, so if the Kings are looking to build around that backcourt pair, they would may have to either trade Hield or bring him off the bench, which isn't easy to do with your second-highest paid player. Hield is still a high-level shooter who can put the ball on the floor, and is locked up on a long-term deal, which could prove attractive to teams looking to add shooting.
Barnes is on a descending contract over the next two seasons, and provides a good mix of defense and shot creation. The Kings would likely rather keep than deal him, as he fits nicely with the Fox/Haliburton pairing, but his continued presence is made more complicated by the unsolved puzzle of how the Kings build their frontcourt.
Bagley's three seasons have been riddled with injuries, and even when healthy, he presents major question marks. Offensively, he's more of a center than a power forward, but he's not a good enough defender to anchor a defense. He showed the ability to make threes at a decent rate this season, hitting 34% on 2.5 attempts per game, and is a talented rebounder and athlete around the rim. Holmes helped cover for him defensively this year, but Holmes is a free agent, and the Kings may not be able to offer him enough to keep him in Sacramento long-term.
The Kings had the worst defense in the league last season, and if they're unable to retain Holmes, it could get even worse, especially if they build around Bagley as their full-time center. There are a lot of interesting centers on the market this summer, but none are going to significantly change the trajectory of the team.
Bagley is also extension-eligible, and will be a free agent next summer, meaning the Kings have to decide how much they prioritize him. If they don't want to invest in him long-term, packaging him with Hield, the ninth pick, or both, could be an enticing option for McNair, either as a draft-day trade up for a higher pick, or for a high-level prospect — the name Ben Simmons has been raised by some as a potential target, though the fit is questionable and it's uncertain the Sixers would consider that enough of a return.
The other player who may figure into trade talks is guard Delon Wright. Wright is owed $8.5MM and will be an expiring contract. He brings an interesting blend of size, shooting and defense to either guard spot. The 29-year-old could help a playoff team off the bench, and could be useful in compiling salary in a trade for a non-star level player.
---
Salary Cap Situation
Note: Our salary cap projections are based on a presumed 3% increase, which would result in a $112.4MM cap for 2021/22.
Guaranteed Salary
De'Aaron Fox ($28,103,550) 1
Buddy Hield ($22,768,890)
Harrison Barnes ($20,284,091)
Marvin Bagley III ($11,312,114)
Delon Wright ($8,526,316)
Tyrese Haliburton ($4,023,600)
Jahmi'us Ramsey ($1,517,981)
Robert Woodard ($1,517,981)
Total: $98,054,523

Player Options
Team Options
Non-Guaranteed Salary
Restricted Free Agents
Two-Way Free Agents
Draft Picks
No. 9 overall pick ($4,603,320)
No. 39 overall pick (no cap hold)
Total: $4,603,320
Extension-Eligible Players
Marvin Bagley III (rookie scale)
Harrison Barnes (veteran)
Justin James (veteran)
Delon Wright (veteran)
Unrestricted Free Agents / Other Cap Holds
Richaun Holmes ($6,506,955): Early Bird rights
Maurice Harkless ($4,347,600): Non-Bird rights
Hassan Whiteside ($1,669,178): Non-Bird rights
Corey Brewer ($1,669,178): Early Bird rights 6
Total: $14,192,911

Offseason Cap Outlook

The Kings are in a bit of a tight spot financially, with only eight guaranteed deals taking up nearly $100MM in cap space. It's likely they'll operate as a team over the cap but under the luxury tax, but that will be impacted by how they approach Holmes' free agency.
They won't be able to offer Holmes more than the mid-level exception or the Early Bird exception (which is in the same neighborhood as the MLE) unless they open up cap room. It's easy to envision Holmes drawing offers worth more than the mid-level on the open market, so if the Kings want to keep him following his breakout year, they may need to make a trade to create space.
With backup center Whiteside headed to free agency after a disappointing year, it seems likely that the Kings will guarantee the contracts of Jones and Metu, and 6'7″ wing James played well enough in his minutes to be worth keeping around another year.
Davis will be a big question for the Kings — after a strong rookie year that saw him named to 2020's All-Rookie Second Team, the shooting guard saw his minutes dip in Toronto and was eventually traded to Sacramento, where he had some of the best games of his career. It's unlikely that he's offered a large deal in restricted free agency, making it easier for Sacramento to retain him. If they should do so, the Kings will have to find a way to re-balance their roster, as five of their 11 rostered players would be shooting guards.
Two-way player King only played six games for Sacramento, but scored 7.3 PPG on 36.4% from three in only 14 MPG. At 6'7″ and only 21 years old, he represents an interesting investment if the Kings should decide to sign him to a multiyear, partially guaranteed deal.
Cap Exceptions Available
Mid-level exception: $9,536,000 7
Bi-annual exception: $3,732,000 7
Trade exception: $3,600,000
Trade exception: $2,009,019

Footnotes
This is a projected value. Fox's salary will be 25% of the 2021/22 salary cap.
Jones' salary becomes fully guaranteed after August 9.
James' salary is expected to become fully guaranteed in mid-August (exact date TBD).
Metu's salary becomes partially guaranteed ($881,938) after August 9.
Because he has been on a two-way contract with the Kings for two seasons, Guy is eligible for a standard minimum-salary qualifying offer.
The cap hold for Brewer remains on the Kings' books from a prior season because he hasn't been renounced. He can't be used in a sign-and-trade deal.
These are projected values.
Salary and cap information from Basketball Insiders and RealGM was used in the creation of this post. Luke Adams contributed to this post.