When the Mavericks acquired Kristaps Porzingis from New York in 2019, they envisioned him as half of a superstar duo alongside Luka Doncic for the next decade. But Porzingis, who flashed star potential in his early years with the Knicks, has plateaued in recent years as ongoing injury problems and his lack of defensive versatility have limited his ability to make a huge on-court impact.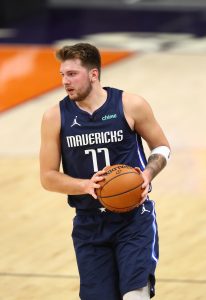 Without a reliable go-to second option in the playoffs – where Porzingis averaged just 13.1 PPG and 5.4 RPG – the Mavs have been unable to break through so far, despite Doncic giving the Clippers all they could handle in the first round for two straight years (including 35.7 PPG and 10.3 APG in Dallas' seven-game series loss this spring).
Strengthening the supporting cast around Doncic will be the primary goal going forward for the new-look front office, which includes longtime Nike executive Nico Harrison as Dallas' new general manager. Harrison stepped in following the departure of veteran executive Donnie Nelson.
Meanwhile, it'll be up to new head coach Jason Kidd to get the most of out the Mavs' roster. Kidd's two previous stints running the show in Brooklyn and Milwaukee were up and down, and he'll have big shoes to fill in replacing Rick Carlisle, who was the NBA's third longest-tenured head coach. But there's optimism that Kidd has learned from past mistakes and – as a Hall-of-Fame point guard himself – will be a good mentor for Doncic.
---
The Mavericks' Offseason Plan:
The 2021/22 season will likely be the last time for the next 10 or 15 years that Doncic is earning less than the maximum salary, so it would be a good time for the Mavericks to take advantage of their financial flexibility. Besides Porzingis, no one on the roster is currently on the books for more than about $11MM next season.
Unfortunately, the Porzingis contract is an issue. He'll earn $31.65MM in '21/22 and a total of $101.5MM over the next three seasons, and he hasn't lived up to that salary so far. Trading him is an option, but the Mavs will be loath to sell low on the 25-year-old rather than hoping for better injury luck going forward, which might allow Porzingis to rebuild his value.
The contract situations of Josh Richardson and Tim Hardaway Jr. will also compromise the Mavs' offseason flexibility. Richardson had a somewhat underwhelming first year in Dallas and now seems like a good bet to pick up his $11.6MM player option, cutting into the team's potential cap room. And if the Mavs want to re-sign Hardaway, an unrestricted free agent, they may end up without any cap room at all, instead operating over the cap and gaining access to the full mid-level exception.
Even if the Mavs, who have traded away both of their 2021 draft picks, can add a solid rotation player with the MLE, they likely won't be satisfied with simply running back a similar group next season, so I'd expect them to be active on the trade market. Even if a favorable Porzingis deal doesn't materialize, other veterans – including Dwight Powell and Trey Burke – could be shopped.
Dorian Finney-Smith and Jalen Brunson are terrific bargains for the time being, but are entering contract years and will get more expensive in 2022. If Dallas isn't able to lock them up to team-friendly extensions this year and isn't confident in its ability to re-sign them to reasonable deals in unrestricted free agency, the idea of trading them should at least be considered.
The Mavs will also have to reassess 2020 draftees Josh Green and Tyrell Terry, neither of whom had a great rookie season. Their value has dropped, so they may not be especially useful trade chips, in which case Dallas will have to focus on developing them into useful role players.
Perhaps the simplest move of the Mavs' offseason will be signing Doncic to a maximum-salary rookie scale extension that projects to pay him north of $200MM over five seasons. Ideally, Dallas would avoid adding a fifth-year player option to that deal, but if Doncic insists on it, the club will have to relent.
---
Salary Cap Situation
Note: Our salary cap projections are based on a presumed 3% increase, which would result in a $112.4MM cap for 2021/22.
Guaranteed Salary
Kristaps Porzingis ($31,650,600)
Dwight Powell ($11,080,125)
Luka Doncic ($10,174,391)
Maxi Kleber ($8,825,000)
Dorian Finney-Smith ($4,000,000)
Trey Burke ($3,150,000)
Josh Green ($2,957,520)
Tyrell Terry ($1,517,981)
Total: $73,355,617

Player Options
Team Options
Non-Guaranteed Salary
Restricted Free Agents
Two-Way Free Agents
Draft Picks
Extension-Eligible Players
Luka Doncic (rookie scale)
Jalen Brunson (veteran)
Dorian Finney-Smith (veteran)
Maxi Kleber (veteran)
Dwight Powell (veteran)
Unrestricted Free Agents / Other Cap Holds
Offseason Cap Outlook

If we assume Brunson is retained (a safe bet) and Richardson opts in, that increases the Mavs' guarantees to nearly $87MM for 10 roster spots. Letting everyone else walk would leave Dallas with upwards of $24MM in cap room.
However, if Hardaway re-signs at a number in the neighborhood of his previous salary ($18.98MM), that cap space essentially goes away, and Dallas will be operating over the cap. The team's outlook could change if it adds or subtracts salary in trades or if Hardaway wants to play elsewhere. For now though, my working assumption is that the team will try to re-sign the free agent wing and will use its full mid-level rather than dipping under the cap.
Cap Exceptions Available
Mid-level exception: $9,536,000 3
Bi-annual exception: $3,732,000 3
Trade exception: $1,678,854
Footnotes
Brunson's salary becomes fully guaranteed after August 2.
Melli has reached a contract agreement with Italian team Olimpia Milano. The Mavericks could still make the procedural move of tendering him a qualifying offer if they want to retain matching rights in the event of his return to the NBA.
These are projected values. If the Mavericks decide to operate under the cap, they'd forfeit these exceptions and their trade exception and would instead gain access to the room exception ($4.9MM).
Salary and cap information from Basketball Insiders, RealGM, and ESPN was used in the creation of this post.