Coming off their championship in the Walt Disney World bubble in 2020, the Lakers enjoyed a very brief offseason, reporting to training camp just over a month-and-a-half after the NBA Finals ended.
Whether that abridged offseason was a major factor in the team's up-and-down 2020/21 season is debatable. The Lakers showed no ill effects of the quick turnaround in the early going, getting off to a 21-6 start, but things went south from there.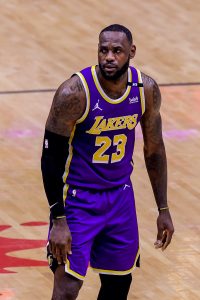 Anthony Davis and LeBron James both missed time due to injuries and didn't look 100% healthy when they returned. Los Angeles finished the regular season on a 21-24 run and needed a play-in victory to secure a playoff spot.
The Lakers were still viewed as a legitimate championship threat as the No. 7 seed in the West, but fell to the Suns in six games in round one, ensuring that Davis, James, and the rest of the club will get a much longer summer break in 2021.
---
The Lakers' Offseason Plan:
The Lakers won't have to worry about losing either of their two superstars this offseason, as both Davis and James remain under contract for multiple seasons. But those two are the only players who are locks to return to the team in 2021/22.
Kentavious Caldwell-Pope, Kyle Kuzma, and Marc Gasol are all under contract for at least one more year, but they could be trade candidates if an opportunity arises for Los Angeles to upgrade its roster. Montrezl Harrell has a player option, but could also end up on the trade block if he opts in. And virtually every other player on the roster is a free agent, either unrestricted (Dennis Schröder, Alex Caruso, Markieff Morris, and Andre Drummond, among others) or restricted (Talen Horton-Tucker).
First and foremost, the Lakers will have to determine which of their free agents are the highest priorities.
Schröder is perhaps the most important, given his role (he led the team in minutes played in 2020/21) and the financial considerations at play. The Lakers find themselves in what John Hollinger calls the "Bird rights trap" with Schröder — if he signs elsewhere, the Lakers would still be over the cap without the means to pay another player the sort of salary that Schröder will be seeking (likely $20-25MM per year), which means he has some leverage to squeeze them for a higher salary than they'd like to pay.
The one alternative to either investing heavily in Schröder or losing him for nothing would be to work out a sign-and-trade arrangement sending him to a new team. But I suspect it will be a challenge for Los Angeles to find a club willing to both give the point guard a massive payday and surrender a desirable asset for him.
Besides Schröder, the Lakers' most important free agents will be Morris, Caruso, and Horton-Tucker. Morris showed a willingness last offseason to accept a discount to be a Laker, and it won't be surprising if he does so again. But the team will face stiff competition for Caruso and Horton-Tucker and can't reasonably expect either player – whose career NBA earnings pale in comparison to Morris' – to take a team-friendly deal.
Caruso will likely get offers worth at least the full mid-level, and it's not out of the question that Horton-Tucker will too — he'll be one of the youngest free agents on the market and rival suitors may like the idea of putting pressure on the Lakers to match an aggressive offer sheet.
Determining how to handle the center position will also be a crucial part of the Lakers' offseason. Gasol, Harrell, and Drummond didn't have the same kind of success at the five that JaVale McGee and Dwight Howard did the year before, which suggests the team may be better off with players who are happy focusing on rebounding and defense rather than bigs who need to play a major role on offense.
Theoretically, Drummond could play that role, but if offensive touches remain a priority for him, it makes sense to let him seek a new team. Gasol would be content to focus on rebounding and defense, but he has clearly lost a step since his prime, limiting his effectiveness on the defensive end and rendering him almost a non-factor on the offensive end — relying on him to play big minutes would be risky.
I expect the Lakers to spend plenty of time perusing the trade market for upgrades using Caldwell-Pope, Kuzma, and Harrell (if he opts in) as potential chips. But a package that starts with two or three of those guys likely won't be enough to make the team a favorite to land a true impact player, especially since L.A. has traded away so many of its future first-round picks. Caldwell-Pope, Kuzma, and Harrell can be solid rotation players in the right situation, but none of the three are clear bargains at their current salaries.
---
Salary Cap Situation
Note: Our salary cap projections are based on a presumed 3% increase, which would result in a $112.4MM cap for 2021/22.
Guaranteed Salary
LeBron James ($41,180,544)
Anthony Davis ($35,361,360)
Kentavious Caldwell-Pope ($13,038,862)
Kyle Kuzma ($13,000,000)
Luol Deng ($5,000,000) — Waived via stretch provision.
Marc Gasol ($2,692,991)
Total: $110,273,757

Player Options
Team Options
Non-Guaranteed Salary
Restricted Free Agents
Two-Way Free Agents
Draft Picks
No. 22 overall pick ($2,451,120)
Total: $2,451,120
Extension-Eligible Players
Alfonzo McKinnie (veteran)
Unrestricted Free Agents / Other Cap Holds
Dennis Schröder ($24,000,000): Bird rights

Alex Caruso ($5,225,000): Bird rights
Wesley Matthews ($4,347,600): Non-Bird rights
Jared Dudley ($1,669,178): Early Bird rights
Markieff Morris ($1,669,178): Early Bird rights
Andre Drummond ($1,669,178): Non-Bird rights

Ben McLemore ($1,669,178): Non-Bird rights
Dion Waiters ($1,669,178): Non-Bird rights 4
Total: $41,918,490

Offseason Cap Outlook

With $110MM+ committed to five roster spots, the Lakers project to be over the cap before addressing a single one of their free agents. If the team re-signs Schröder, it's a safe bet Los Angeles will find itself in luxury tax territory in 2021/22.
Even without a new deal for Schröder, the club could end up a taxpayer based on Harrell's option and potential new contracts for guys like Caruso, Morris, and Horton-Tucker. If they let a bunch of free agents walk or make a cost-cutting trade, the Lakers could theoretically stay below the tax apron and use the full mid-level exception, but I'm not counting on that outcome.
Cap Exceptions Available
Taxpayer mid-level exception: $5,890,000 5
Trade exception: $674,408
Footnotes
Harrell's decision is reportedly due by July 31.
Antetokounmpo has reached a contract agreement with French team ASVEL. The Lakers could still make the procedural move of tendering him a qualifying offer if they want to retain matching rights in the event of his return to the NBA. Because he has been on a two-way contract with the Lakers for two seasons, Antetokounmpo is eligible for a standard minimum-salary qualifying offer.
Because he has been on a two-way contract with the Lakers for two seasons, Cacok is eligible for a standard minimum-salary qualifying offer.
The cap hold for Waiters remains on the Lakers books from a prior season because he hasn't been renounced. He can't be used in a sign-and-trade deal.
This is a projected value. If the Lakers stay below the tax apron, they could have access to the full mid-level exception ($9.5MM).
Salary and cap information from Basketball Insiders, RealGM, and ESPN was used in the creation of this post.