The Suns won just 19 games during the 2018/19 season and had a 26-39 record when the 2019/20 season went on hiatus last March. When play resumed in the Walt Disney World bubble, the Suns – who ranked 13th in the Western Conference at the time – were nearly left out. However, the team showed it belonged by winning all eight games it played in the bubble. While it wasn't enough to make the playoffs, the performance turned heads and provided a preview of what was to come in '20/21.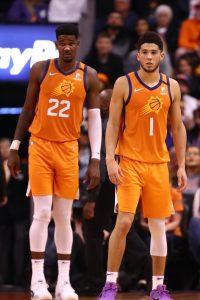 Led by many of the same players who spearheaded the 8-0 bubble run – including Devin Booker, Deandre Ayton, Mikal Bridges, and Cameron Payne – and buoyed by newly-acquired point guard Chris Paul, the Suns went 51-21 this past season, good for the second-best record in the NBA.
Despite the team's regular season success, observers were still skeptical of Phoenix's ability to win in the postseason, with oddsmakers listing them as first-round underdogs to the seventh-seeded Lakers. But the Suns handled the Lakers, the Nuggets, and the Clippers en route to their first NBA Finals appearance since 1993.
The Suns ultimately couldn't withstand Giannis Antetokounmpo's otherworldly performance in the NBA Finals and dropped the series in six games, but it was a remarkably successful season for a franchise that had finished in the lottery 10 straight times and was two years removed from finishing 14 games behind every other team in the West.
---
The Suns' Offseason Plan:
The good news for the Suns is that nearly everyone who played a key rotation role in 2020/21 is under team control for multiple years going forward. The bad news? Paul, the team's lone All-NBA player, can become a free agent, and bringing him back will hamper Phoenix's ability to make any legitimate upgrades to its roster.
Paul's contract situation is a fascinating one, as he holds a player option worth just over $44MM for the 2021/22 season. The idea that a 36-year-old would turn down a $44MM+ salary may seem outrageous, but after finishing fifth in MVP voting, Paul is poised to cash in one final time on a longer-term deal.
Assuming the Suns and Paul want to continue their relationship, they have two options: Paul could opt out and negotiate a new contract with the team, or he could opt in and negotiate an extension.
The latter approach might make more sense for both sides. For instance, if the Suns and Paul agreed that he has earned a $90MM commitment for the next three years, a new contract worth that amount would carry cap hits in the neighborhood of $30MM each year, since his salary could only increase or decline by up to 8% per season.
But there's no limit on the pay cut a player can take in the first year of an extension, so if Paul were to pick up his $44MM option, he and the Suns could work out a two-year extension that pays him closer to $23MM per year for the following two seasons.
That path would ensure that Paul doesn't have to accept a pay cut in 2021/22, would make him more movable (if necessary) during the last year or two of the contract, and would give the Suns more financial flexibility starting in '22/23, when new deals for Ayton and Bridges would go into effect.
Ayton and Bridges are eligible for rookie scale extensions this offseason and I expect Phoenix to try to lock up both former lottery picks — Ayton figures to earn the max or something close to it, while Bridges' next deal will likely exceed $20MM per year.
In the short term, bringing back Paul at $44MM+ would push the Suns well over the cap and may prevent them from using their entire non-taxpayer mid-level exception, so they'll have to get creative when it comes to upgrading the roster around the edges. They'll have a portion of the mid-level and the No. 29 pick at their disposal. It would also help significantly if Jalen Smith is ready to take on an expanded role in his second season, since it would reduce the need for another frontcourt piece.
Among the Suns' own free agents (besides Paul), Payne looks like the highest priority. He has earned a raise on his minimum salary and Phoenix – with his Early Bird rights in hand – should be able to accommodate that bump as long as bidding doesn't get too crazy.
---
Salary Cap Situation
Note: Our salary cap projections are based on a presumed 3% increase, which would result in a $112.4MM cap for 2021/22.
Guaranteed Salary
Devin Booker ($31,650,600)
Deandre Ayton ($12,632,950)
Jae Crowder ($9,720,900)
Dario Saric ($8,510,000)
Mikal Bridges ($5,557,725)
Jalen Smith ($4,458,000)
Cameron Johnson ($4,437,000)
Jevon Carter ($3,650,000)
Ty-Shon Alexander (two-way)
Total: $80,617,175

Player Options
Team Options
Non-Guaranteed Salary
Restricted Free Agents
Two-Way Free Agents
Draft Picks
No. 29 overall pick ($2,009,040)
Total: $2,009,040
Extension-Eligible Players
Deandre Ayton (rookie scale)
Mikal Bridges (rookie scale)
Devin Booker (veteran)
Chris Paul (veteran) 1
Unrestricted Free Agents / Other Cap Holds
Abdel Nader ($1,669,178): Bird rights

Cameron Payne ($1,669,178): Early Bird rights
Torrey Craig ($1,669,178): Non-Bird rights
Langston Galloway ($1,669,178): Non-Bird rights
Frank Kaminsky ($1,669,178): Non-Bird rights
E'Twaun Moore ($1,669,178): Non-Bird rights

Cheick Diallo ($1,669,178): Non-Bird rights 2
Total: $11,684,246

Offseason Cap Outlook

If we assume Paul picks up his option and the Suns keep their first-round pick, the result would be nearly $127MM in guaranteed commitments for 11 roster spots. That should allow the club to remain below the tax line (projected to be in the $136-137MM range). If the Suns are willing to go a little over the tax line, they'd have more flexibility to re-sign Payne and use their mid-level exception rather than focusing on minimum-salary players.
If Paul opts out to sign a new contract, it would likely give Phoenix more room to maneuver below the tax threshold, opening up the full mid-level execption and even the bi-annual exception. On the other hand, if Paul departs in free agency, this outlook changes drastically, and the Suns could actually generate upwards of $28MM in cap room. But that won't be the team's first choice and I don't think it'll be CP3's preference either.
Cap Exceptions Available
Mid-level exception: $9,536,000 3
Bi-annual exception: $3,732,000 3
Trade exception: $898,310
Footnotes
Paul would only be extension-eligible if he exercises his player option.
The cap hold for Diallo remains on the Suns' books from a prior season because it hasn't been renounced. He can't be used in a sign-and-trade deal.
These are projected values. If the Suns approach or cross the tax line, they may forfeit these exceptions, instead gaining access to the taxpayer mid-level exception ($5.9MM). If they decide to operate under the cap, they'd forfeit these exceptions and would gain access to the room exception ($4.9MM).
Salary and cap information from Basketball Insiders, RealGM, and ESPN was used in the creation of this post.