AUGUST 6: Collins has officially re-signed with the Hawks, the team confirmed today in a press release.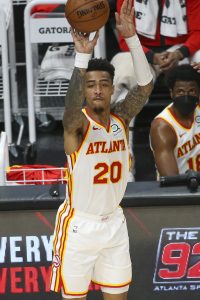 "We have a great appreciation for John and all he provides for our team; he is an incredible team player who brings the type of positive energy and passion that is contagious and impacts winning," president of basketball operations Travis Schlenk said in a statement. "John is beloved by his teammates, our coaches and our fans and we are happy that he will continue to grow along with our young core."
Atlanta has now officially locked up its two franchise cornerstones to long-term deals, having also announced Young's extension on Friday.
---
AUGUST 4: The Hawks have reached an agreement on a five-year, $125MM deal with restricted free agent John Collins, agents Sean Kennedy and Jeff Schwartz tell ESPN's Adrian Wojnarowski (Twitter link). The agreement features a fifth-year player option, according to Wojnarowski (Twitter link).
Collins, the No. 2 player on our list of this year's top 50 free agents, has now secured the largest free agent contract of the offseason so far in terms of overall value. Chris Paul (four years, $120MM) and Jarrett Allen (five years, $100MM) are the only other players to crack the nine-figure mark to date, and Paul's deal reportedly only includes about $75MM in fully guaranteed money.
As I noted on Tuesday when word broke that the Hawks had offered Collins $125MM over five years, the deal represents an increase in terms of both years and dollars on the extension the team reportedly offered the 23-year-old during the 2020 offseason (four years, $90MM+).
It's still quite a bit shy of the maximum salary Atlanta could have offered ($163MM over five years), but Collins' options were limited, given the lack of teams with cap room available. The inclusion of a fifth-year player option may also have helped convince him to accept the deal. That will give him the ability to opt out in 2025 at age 27.
Collins, the 19th overall pick in the 2017 draft, averaged 17.6 PPG, 7.4 RPG and 1.0 BPG on .556/.399/.833 shooting in 63 games (29.3 MPG) for Atlanta in 2020/21. While those numbers were a slight step below the ones he put up in '19/20, Collins played the role the Hawks asked of him and was a major part of the team's run to the Eastern Conference Finals.
The Hawks have now made two major commitments this week to lock up a pair of franchise cornerstones. In addition to reaching a deal with Collins, the club also agreed to terms on a five-year, maximum-salary extension for Trae Young, which will go into effect in 2022/23.