The Celtics have officially completed three previously reported deals with veteran free agents, signing forward Jake Layman, swingman Justin Jackson, and guard Denzel Valentine to their training camp roster, according to RealGM's NBA transaction log.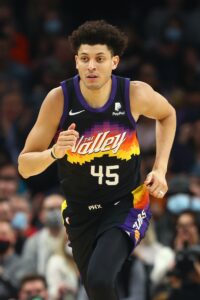 A report in August indicated that Valentine would be signing an Exhibit 10 contract with Boston. The exact terms of the team's agreements with Layman and Jackson, which were reported more recently, aren't known, but those are presumably non-guaranteed camp deals as well.
All three veterans are expected to take part in a preseason competition for one of the Celtics' back-end roster spots. The club currently has 10 players with guaranteed standard contracts, plus Al Horford with a significant partial guarantee. That leaves three – or possibly four – spots available on the regular season roster for a group of players with non-guaranteed or partially guaranteed salaries.
Besides Layman, Jackson, and Valentine, those camp invitees vying for roster spots includes Noah Vonleh, Luke Kornet, and Bruno Caboclo. Two-way players Mfiondu Kabengele and JD Davison could also be in the mix for promotions to standard contracts. Boston has one more open spot on its 20-man offseason roster, with restricted free agent Brodric Thomas among the top candidates to fill it.
A second-round pick in 2016, Layman has appeared in 243 regular season games across six NBA seasons in Portland and Minnesota. In total, the former Maryland forward – who is a Massachusetts native – has averaged 4.8 PPG and 1.7 RPG on .460/.300/.719 shooting in 12.8 minutes per contest over the course of his NBA career.
Jackson, the No. 15 overall pick in the 2017 draft, signed two 10-day contracts with the Suns last season and one with the Celtics, appearing in seven total games (just one with Boston). In Las Vegas this July, he averaged 15.0 PPG in four appearances (29.0 MPG) for Boston's Summer League squad.
The 14th overall pick in the 2016 draft, Valentine spent the first five years of his NBA career in Chicago before signing last offseason with the Cavaliers. He played a minor role in 22 games for Cleveland, then was dealt in January to the Knicks, who waived him. Following a 10-day contract with the Jazz, Valentine played in the G League for the rest of the 2021/22 season. Considered a strong three-point shooter, Valentine has made 36.0% of his attempts from beyond the arc in 256 NBA appearances (18.8 MPG).