11:42am: The Cavaliers have officially announced the hiring of Calderon, stating in a press release that he'll be a special advisor to the front office. The announcement doesn't offer many specifics on Calderon's role, noting that he'll "assist the front office achieve their goals both on and off the court in a variety of engagements."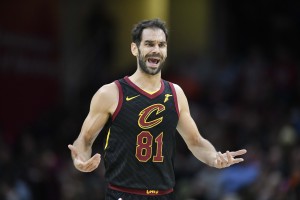 "We are thrilled to add someone of Jose Calderon's background and experience to our front office," Altman said in a statement. "His accomplishments as a basketball player and familiarity with our organization will be invaluable. We look forward to his insights and perspective on how we can continue moving this team forward and enhancing our efforts towards sustainable and long-term success here in Cleveland."
---
11:02am: The Cavaliers are hiring Jose Calderon to a position in their front office, sources tell ESPN's Adrian Wojnarowski (Twitter link).
A longtime NBA point guard, Calderon appeared in 895 regular season games for seven teams from 2005-19, averaging 8.9 PPG and 5.8 APG on .472/.407/.873 shooting in 26.4 MPG. The Spaniard spent his first seven-and-a-half seasons with the Raptors before bouncing around the league during the second half of his career, spending time with the Pistons (twice, Mavericks, Knicks, Lakers, Hawks, and Cavaliers.
Calderon also earned three Olympics medals (two silvers and a bronze) with Spain and won a gold medal while playing for his country during the 2006 FIBA World Cup.
When he retired as a player in 2019, Calderon accepted a role with the National Basketball Players Association, serving as a special assistant to executive director Michele Roberts. Roberts retired from her NBPA position this month, though it's unclear if Calderon's departure from the players' union was related to Roberts' exit.
Back in 2019, a number of teams reportedly contacted Calderon about possible front office jobs, but he preferred to stay flexible and consider his options. Now, he's now poised to join a Cavs front office led by Koby Altman, whose first year as general manager coincided with Calderon's lone season in Cleveland as a player.
According to Basketball-Reference, signing Calderon was Altman's first official move as the Cavs' GM. Four-and-a-half years later, it appears adding Calderon to his basketball operations department will be Altman's first move after receiving an extension and a promotion from the franchise.