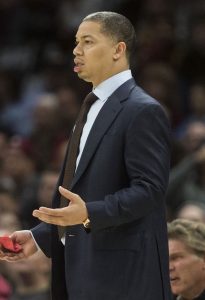 1:44pm: The Cavaliers have made the firing of Tyronn Lue official, confirming the news in a press release. The team also confirmed Larry Drew will take over as interim head coach.
"This was a very difficult decision. It is especially so, considering Coach Lue's time with us over the last four years, including four straight trips to the NBA Finals," general manager Koby Altman said. "We have respect and great admiration for Ty, not only as a coach, but a person. We thank him for the many ways he has contributed to our success, wish him the best and he will always be remembered for leading a very special Cavs team back against the odds to win the title in 2016. This is a different team equation, though, and one that we felt needed a different voice and approach that required this change."
10:14am: After an 0-6 start, Tyronn Lue has been dismissed as head coach of the Cavaliers, tweets Joe Vardon of The Athletic. The decision was announced following a meeting this morning between Lue and GM Koby Altman (Twitter link). Assistant Larry Drew will serve as interim coach while the team looks for a replacement, according to ESPN's Adrian Wojnarowski (Twitter link).
Drew will run practice today, and Altman and owner Dan Gilbert are hoping he will accept the interim job with a chance to earn a full-time head coaching position, Wojnarowski tweets. However, Drew is hoping for a longer commitment right away.
Lue compiled a 128-83 record after replacing David Blatt midway through the 2015/16 season. He led the organization to its only championship and took the Cavs back to the NBA Finals the past two seasons. Lue received a five-year, $35MM contract extension after winning the title in 2016 and is still owed about $15MM (Twitter link).
Of course, that was with LeBron James, who departed for the Lakers in free agency over the summer. Cleveland was expected to have a difficult transition with James gone, but the front office had hoped enough veteran talent was still in place to contend for the playoffs. The organization gave a four-year extension to Kevin Love over the offseason as a sign that it wasn't ready to start rebuilding.
However, the Cavaliers got off to a miserable start, not only losing their first six games, but struggling to remain competitive. The team hasn't held a lead after halftime all season and has trailed by at least 16 points in every game, Vardon noted in a recap of Saturday's loss to the Pacers. The Cavs have been especially bad at home, where they have dropped three games by a combined 50 points.
Lue urged patience after the latest defeat, contending there's more to building success than just the team's record.
"I don't think you define culture off of wins and losses," he said. "I think you define culture on how the organization is a class-A organization, and with Dan Gilbert at the helm, it's always going to be that way. I think it's about the players you bring in. It's about your coaching staff and who you surround the people with, so, culture is not defined by wins and losses."
Cavaliers players are angry about the decision to replace Lue and some are reacting on social media, Vardon relays in a full story on the move. Love posted a photo of him with Lue on Instagram along with a message thanking his former coach for all his help. Lue and Altman have been clashing on the direction of the team since training camp, Vardon adds.
Altman wanted to devote more playing time to younger players such as Cedi Osman and first-round pick Collin Sexton, and after two early losses Lue and Altman told veterans J.R. Smith, Kyle Korver and Channing Frye that their minutes were being reduced. However, after being embarrassed by the Hawks in their home opener, Lue decided to put Korver and Smith back in the rotation.
The Cavs have also dismissed assistant coach Damon Jones, according to Shams Charania of The Athletic (Twitter link).
Photo courtesy of USA Today Sports Images.