Hawks head coach Nate McMillan has "strongly considered" the possibility of resigning from his position, league sources with knowledge of the situation tell Shams Charania of The Athletic.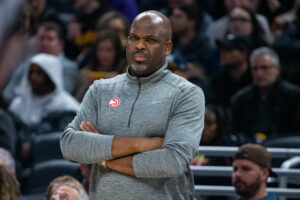 Charania's report comes just weeks after he and Sam Amick of The Athletic described a verbal confrontation between McMillan and Hawks star Trae Young. McMillan's job security came into question following that incident, per Charania, but sources tell The Athletic that his job has been considered safe and the team wants him to finish the season in his role.
However, McMillan "appears to be near the end of his tenure with the Hawks after the season," Charania writes, which presumably means the club is mulling the idea of making a coaching change in the spring — if McMillan hasn't stepped down before then.
Sources tell The Athletic that no McMillan resignation is imminent and that he and new head of basketball operations Landry Fields have had positive recent conversations about the direction of the team.
Still, Charania points to the alleged confrontation between McMillan and Young as a sign of the "disconnect" between the two. Given that Young is in the first season of a five-year, $215MM contract, he's unlikely to be the odd man out if the franchise ultimately has to make a decision between its head coach and its star player.
As Charania observes, McMillan spoke last week about the challenges of coaching today's players, telling reporters, "They see the game different than when I played it and when I started coaching."
The Hawks hoped to take a major step forward this year after trading for Dejounte Murray over the summer, but it has been up and down season in Atlanta so far. The team has an underwhelming 17-18 record and ranks ninth in the Eastern Conference.
McMillan was initially hired in 2020 by Travis Schlenk, first as an assistant, then as Lloyd Pierce's replacement in 2021. Schlenk transitioned last week from Atlanta's president of basketball operations to a senior advisory role.
According to Charania, the Hawks made some other changes to their front office while reassigning Schlenk and promoting Fields — senior adviser Rod Higgins, director of pro scouting Stephen Giles, and VP of player personnel Derek Pierce were all let go, sources tell The Athletic. It remains to be seen whether a coaching shake-up will follow the one that occurred in the front office.