9:30pm: All the roster moves detailed below are now official, per the Rockets and RealGM's transactions log.
---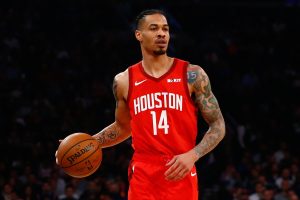 11:46am: Veteran swingman and Houston native Gerald Green will be among the players waived by the Rockets today as they ready their roster for the regular season, reports Jonathan Feigen of The Houston Chronicle.
Green has spent most of the last three years with the Rockets, though he was unable to play at all during the 2019/20 season due to a broken foot. He signed a non-guaranteed deal with Houston prior to training camp and was a candidate to make the roster, but cap constraints will make it impossible for now.
The Rockets only have enough room under their hard cap to carry 14 players for the time being, and Chris Clemons will be one of those players since his salary will now be guaranteed due to his season-ending Achilles tear. Houston still had some flexibility to cut a non-guaranteed player besides Green, but the team – unsurprisingly – will hang onto DeMarcus Cousins, Jae'Sean Tate, and Bruno Caboclo ahead of the 34-year-old wing.
The Rockets are open to bringing back Green later in the season if other roster moves make it possible, a source tells Feigen.
Meanwhile, Houston will also waive Trey Mourning and William McDowell-White, according to Feigen. McDowell-White just signed a two-way contract this week, but the plan is for Brodric Thomas to fill that two-way slot — he'll have his Exhibit 10 deal converted into a two-way contract, says Feigen.
Photo courtesy of USA Today Sports Images.