Over the next several weeks, Hoops Rumors will be breaking down the 2016 offseason for all 30 NBA teams, revisiting the summer's free agent signings, trades, draft picks, departures, and more. We'll evaluate each team's moves from the last several months and look ahead to what the 2016/17 season holds for all 30 franchises. Today, we're focusing on the Cleveland Cavaliers.
Free agent signings:
Camp invitees:
Trades:
Draft picks:
2-54: Kay Felder. Signed for three years, minimum salary. Second year partially guaranteed. Third year team option.
Departing players:
Other offseason news:
---
Check out our salary cap snapshot for the Cleveland Cavaliers right here.
---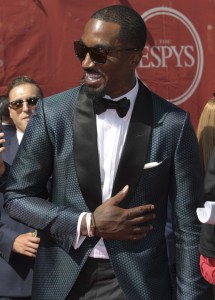 The band is finally back together in Cleveland, although there's not much rehearsal time before the season starts.
The Cavaliers brought back the final piece of their championship puzzle Friday when J.R. Smith ended his long standoff by agreeing to a contract with $45MM guaranteed over the first three seasons. A fourth year at about $12MM will become guaranteed if he remains on the Cavs' roster at the end of the 2018/19 season.
Smith has been an indispensable member of the team's backcourt since coming to Cleveland in a trade with the Knicks in January of 2015. He averaged 11.5 points per game and shot 43% from 3-point range during last season's playoff run. During the season, Smith started all 77 games in which he played and averaged 12.4 points per night.
Getting Smith under contract solidifies one backcourt position, but uncertainty remains at point guard. Kyrie Irving has become one of the league's best players and added to his legend with the winning shot in Game 7 of the NBA Finals. But it's uncertain who will be backing him up after Matthew Dellavedova was shipped to Milwaukee in a sign-and-trade over the summer.
Veteran Toney Douglas was waived Saturday after Smith was signed, and Jordan McRae has been pulled from the competition because head coach Tyronn Lue wants him to concentrate on being a shooting guard. Rookie Kay Felder has been sharing reserve duties in the preseason with DeAndre Liggins, so that arrangement will probably continue once the season starts.
Veteran Mo Williams, who played 41 games for the Cavs last season, told the team late last month that he plans to retire, and he had surgery on his left knee three days ago. However, Williams hasn't filed retirement papers with the league and he still has a spot on the Cavaliers' roster. The team plans to monitor his progress in case he decides to play again. Williams would receive his full $2.2MM salary if Cleveland waives him, and buyout talks have produced little progress.
After winning his third NBA title in June, LeBron James reached another milestone in August as a new three-year, $99.857MM contract made him the league's highest-paid player for the first time. His $33MM salary in 2017/18 will be the largest in NBA history.
It's a fitting reward for a player who led the Cavs to the first championship in their 45-year history. James is coming off another brilliant year, averaging 25.3 points, 7.4 rebounds and 6.8 assists per game during the regular season and raising those numbers to 26.3 points, 9.5 rebounds and 7.6 assists in the playoffs.
Cleveland also re-signed veteran small forward Richard Jefferson for three years at $7.613MM, with the third season non-guaranteed. The 36-year-old initially announced his retirement while the Cavaliers celebrated their championship, but he changed his mind as the summer wore on.
Another important re-signing was Lue, who led the Cavs to the title after taking over as head coach when David Blatt was fired in January. Lue received a five-year extension believed to be worth $35MM.
The Cavs reached offseason agreements with two of James' teammates from his days in Miami, re-signing James Jones for one year at a veteran's minimum salary and giving a similar deal to center Chris Andersen. Cleveland had a need for center help after losing Timofey Mozgov to the Lakers in free agency and trading Sasha Kaun to the Sixers. Andersen appeared in just seven games for the Heat and 20 for the Grizzlies last season.
Cleveland picked up another veteran when the Bulls had to unload Mike Dunleavy Jr.'s salary to create enough cap room to sign Dwyane Wade. The Cavs swung a trade that brought Dunleavy from Chicago for virtually nothing in return, giving them another potent 3-point shooter to help stretch defenses.
The championship helped to quiet trade speculation surrounding Kevin Love, who appears to be set as the power forward for years to come. Complaints that Love wasn't a good fit alongside James and Irving have been following him ever since he was acquired from Minnesota in a 2014 deal. Love turned in a strong playoff performance, averaging 14.7 points and 8.8 rebounds per game after missing most of the 2015 playoff run with a shoulder injury. A report last month said the Cavaliers stopped listening to trade offers for Love in the middle of the season.
Draft night was quiet in Cleveland except for a deal with the Hawks that brought in Felder, the 54th pick, in exchange for cash considerations. A speedy 5'9″ sparkplug, Felder impressed the Cavs during summer league and was signed to a three-year contract.
The last-minute addition of Smith means the Cavaliers will have a very familiar look as they try to defend their NBA title. Dellavedova, Mozgov and Wiliams are the only significant losses from last year, and the additions of Dunleavy and Andersen will help offset those, along with a full season from Channing Frye, who was acquired from Orlando at February's trade deadline.
The Cavs make have to tweak the roster a little bit if Felder doesn't work out as the reserve point guard, but they enter the season as very heavy favorites to tear through the East again and return to the NBA Finals. The Big Three of James, Irving and Love will always be in the spotlight in Cleveland, but owner Dan Gilbert has proven that he will spend big to put a dangerous team around them.
Salary information from Basketball Insiders used in the creation of this post. Photo courtesy of USA Today Sports Images.