Missed this week's biggest NBA headlines? We've got a recap for you. Here are some of the most noteworthy stories from the last seven days: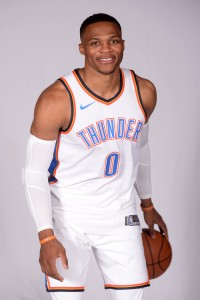 The Thunder signed last season's Most Valuable Player, Russell Westbrook, to a five-year extension worth approximately $205MM. The contract agreement ends any speculation about where Westbrook will be playing in the near future. Westbrook's new deal is a Designated Veteran Extension, similar to the ones signed by Stephen Curry, James Harden, and John Wall earlier this offseason. Not only is Oklahoma City committed to Westbrook, he also showed faith in the franchise that it will remain a championship contender in the coming years. It sends a clear message to Paul George that if he and Westbrook mesh well, there's no reason for him to bolt to Los Angeles as a free agent next summer.
The league's Board of Governors approved major changes in the draft lottery system, beginning in 2019. Commissioner Adam Silver has been seeking ways to discourage tanking and hopes that lottery reform will help achieve that goal. Under the new system, the teams with the three worst records will have an equal chance at getting the top pick. Teams that get unlucky in the lottery could slide down as many as four spots instead of a maximum of three under the current rules.
Dwyane Wade signed a one-year contract with the Cavaliers after reaching a buyout agreement with the Bulls and clearing waivers. Wade rejoined forces with his old Heat pal LeBron James in pursuit of another title. Wade left roughly $8MM of the $23.8MM he was due to receive this season on the table in order to complete the buyout, then signed for approximately $2.33MM with the three-time defending Eastern Conference champions.
Suns big man Alan Williams underwent knee surgery and will miss most of the season. Williams is projected to need six months to return from the meniscus tear in his right knee. Williams, who signed a three-year deal worth just over $17MM this summer, suffered the injury during a workout.
Restricted free agent power forward JaMychal Green finally came to terms with the Grizzlies. Green, who emerged as a starter last season, agreed to a two-year contract worth in excess of $17MM. Green's agent has said early in the free agent process that he was exploring offer sheets and sign-and-trade scenarios, but nothing materialized and his client wound up right back where he started.
Here are 10 more notable NBA stories from the last week:
Photo courtesy of USA Today