If you missed any of this past week's biggest headlines from around the NBA, we've got you covered with our Week in Review. Below are some of the most noteworthy stories from the last seven days.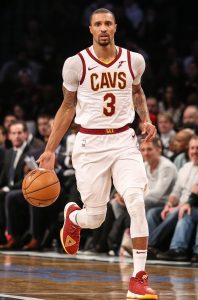 The Bucks, Cavaliers, and Wizards executed a three-team trade involving George Hill, Jason Smith, John Henson, Matthew Dellavedova, and Sam Dekker. The Bucks will receive Hill and Smith, cash considerations from the Wizards, the Wizards' 2021 second-round pick (from the Cavaliers), and the protections removed from the Wizards' 2020 second-round pick already owed to Milwaukee. The Cavs, meanwhile, acquired Dellavedova and Henson, the Bucks' 2021 first- and second-round picks, and the Wizards' 2022 second-round pick. The Wizards, who are trying to lessen their tax burden, will acquire Dekker.
The Bulls fired head coach Fred Hoiberg and replaced him with associate head coach Jim Boylen. The decision, made by executive VP of basketball operations John Paxson, was made with the "overall development of our team in mind." Hoiberg, who coached at Iowa State before joining the Bulls, was the league's 12th-longest-tenured head coach before being let go. He finishes in Chicago with an overall record of 115-155 (.426), including 5-19 this season. The Bulls made the postseason once with Hoiberg, but didn't win a playoff series. Boylen, meanwhile, is well regarded within the organization and has a chance to keep the head job in Chicago beyond the 2018/19 campaign.
Sixers' guard Markelle Fultz has been diagnosed with Thoracic Outlet Syndrome, a condition that involves compression or irritation in the area between the lower neck and upper chest. Fultz will undergo physical therapy with renowned physical therapist Judy Seto, who has worked with both Kobe Bryant and Elton Brand. Fultz is out indefinitely, but the Sixers are optimistic that their prized draft pick from 2017 will be able to return to the court in three-to-six weeks. Ultimately, however, Fultz's timetable will depend on the success of rehab.
Kevin Love, who underwent foot surgery just over a month ago, is aiming to return to the court for the Cavaliers in mid-January. The Cavs have still not issued a formal update on Love's recovery, but reports suggest that a recent consultation in New York demonstrated clean scans on Love's foot, meaning he'll be able to ramp up his workouts in less than a month. Cleveland has intimated that they plan on having Love reclaim regular minutes when he returns, but the Cavs had made it clear with recent deals that they're ready to begin focusing on the future and developing young players, so it'll be an interesting scenario to keep an eye on.
Here are 11 more notable NBA headlines from the last week: