If you missed any of this past week's biggest headlines from around the NBA, we've got you covered with our Week in Review. Here are some of the most noteworthy stories from the last seven days: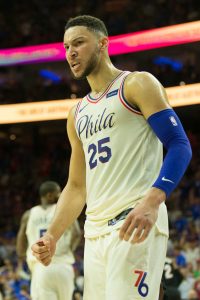 The Sixers and Ben Simmons have reached a deal on a five-year, maximum-salary contract extension through 2025. Based on the NBA's current cap projections the contract will pay Simmons no less than $169.65MM. However, because the contract extension contains 5th year, 30% max criteria language, Simmons could earn up to $203.58MM in the event he earns an All-NBA First Team spot next season. The extension contains no options and includes a 15% trade kicker.
Chris Paul is likely to begin the 2018/19 season as a member of the Thunder after Oklahoma City failed to find any success in their attempts to trade the future hall-of-famer. One of the primary hiccups to a trade is the timing of the deal that brought Paul to OKC. Because it the trade happened so far into free agency, few contenders have the flexibility to take on Paul. As a result,  a trade will likely need to include recently-signed players for salary-matching purposes who aren't eligible to be traded until December 15 or later.
The Pacers and free agent swingman Justin Holiday have reached an agreement on a one-year, $4.8MM contract. Likely to be signed with Indiana's room exception, Holiday should get a chance to play plenty of minutes early on this season with All-Star guard Victor Oladipo not expected to be ready to play. Holiday, 30, appeared in 82 total games last season for the Bulls and Grizzlies, averaging 10.5 PPG, 3.9 RPG, and 1.5 SPG in 31.8 minutes per contest. He'll also join his younger brother, Aaron Holiday, with the siblings potentially sharing the Pacers' backcourt on occasion.
The Wizards are promoting interim GM Tommy Sheppard to the position on a permanent basis. Washington, who fired longtime GM Ernie Grunfeld just before the end of the regular season, has had Sheppard in charge since April 2, but reportedly made a run at Raptors' top executive Masai Ujiri. The Wizards also made an offer to Tim Connelly, but the executive chose to remain in Denver running the Nuggets.
Veteran shooting guard Kyle Korver is signing with the Bucks on a one-year, veteran's minimum deal. Korver was recently waived by the Suns after being traded by the Jazz and Grizzlies earlier this offseason. Korver averaged 8.6 PPG on .416/.397/.822 shooting in 70 games (19.1 MPG) last season for the Cavaliers and Jazz.
Here are 10 more noteworthy headlines from the past week:
Photo courtesy of USA Today Sports Images.