If you missed any of this past week's biggest headlines from around the NBA, we've got you covered with our Week in Review. Here are some of the most noteworthy stories from the last seven days: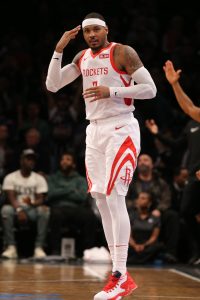 Carmelo Anthony is back in the NBA after agreeing to a non-guaranteed deal with the Trail Blazers. Anthony will try to turn around the fortunes in Portland, which has gotten off to a slow start and is dealing with a string of injuries to its big men. The 10-time All-Star has been out of the league for about 12 months.
Paul George made his Clippers debut this week after missing nearly a month while recovering from offseason surgery on both shoulders. George looked as good as ever with 33 points and nine rebounds.
Reports out of New York suggest the Knicks are making plans to fire coach David Fizdale if the season doesn't turn around soon. Owner James Dolan held a meeting during halftime of an embarrassing loss Sunday with president of basketball operations Steve Mills and general manager Scott Perry, who followed with an unusual post-game press conference to address the team's poor performance.
The NBA sent a memo to all 30 teams telling them to avoid using "load management" when talking about injuries. The newly accepted phrase appears to be "injury management" with the specific injury listed on the inactive report.
The Magic have expressed interest to the Spurs about acquiring guard DeMar Derozan. DeRozan has a $27.7MM player option for next season and may not fit into San Antonio's long-term plans. Orlando needs scoring help and may view a DeRozan deal as a way to spark the team after a slow start.
Here are 10 more noteworthy headlines from around the basketball world this week:
Photo courtesy of USA Today Sports Images.