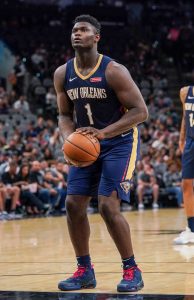 If you missed any of this past week's biggest headlines from around the NBA, we've got you covered with our Week in Review. Here are some of the most noteworthy stories from the last seven days:
This season's most anticipated NBA debut took place Wednesday in New Orleans as No. 1 pick Zion Williamson played in his first regular season game. Williamson was dominant in the preseason before suffering a meniscus injury that required surgery. He admitted that it was frustrating to be sidelined as his recovery time stretched to three months.
Starters were announced for this year's All-Star game, which will be played February 16 in Chicago. Fans selected Trae Young, Kemba Walker, Giannis Antetokounmpo, Pascal Siakam and Joel Embiid in the East and James Harden, Luka Doncic, LeBron James, Kawhi Leonard and Anthony Davis in the West. As the top vote-getters in each conference, James and Antetokounmpo will conduct a mock draft.
The Mavericks picked up some frontcourt help by acquiring Willie Cauley-Stein from the Warriors. Golden State received Utah's 2020 second-round pick in return. Dallas also traded Isaiah Roby to the Thunder for Justin Patton, who was waived to open a roster spot.
Dallas needed another big man because Dwight Powell was lost for the rest of the season with a ruptured right Achilles tendon. The long recovery time associated with the injury could keep Powell sidelined for most of the 2020/21 season as well.
The Warriors may get Stephen Curry back in their lineup by the beginning of March. Curry, who broke his left hand in late October, has set March 1 as a "target date" for a possible return.
Here are 10 more noteworthy headlines from around the basketball world this week:
Photo courtesy of USA Today Sports Images.