Over the course of the 2019/20 NBA season, up until February's trade deadline, we're keeping an eye on potential trade candidates from around the NBA, monitoring their value and exploring the likelihood that they'll be moved. Each of these looks at possible trade candidates focuses on a specific division, as we zero in on three players from that division.
The Pacific Division has been the subject of a handful of trade rumors lately, including reports suggesting that the Kings and Lakers have touched base on a possible deal and that the Suns and Clippers might make good trade partners for a swap of big men.
As we wait to see whether any of these whispers actually turn into anything concrete, here are three potential trade candidates from around the Pacific:
Kyle Kuzma, PF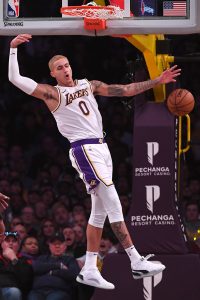 Los Angeles Lakers
$2MM cap hit; $3.6MM guaranteed salary in 2020/21; RFA in 2021

As recently as last Friday, word was that the Lakers still viewed Kuzma as a core long-term piece and were focused more on upgrading their roster around the edges. However, Sam Amick of The Athletic suggested over the weekend that the club was open to listening to inquiries on Kuzma, and Marc Stein of The New York Times reported on Monday that the Kings were among the teams with interest.
This may simply be a case of the Lakers doing due diligence. According to Amick, LeBron James remains supportive of Kuzma and general manager Rob Pelinka is believed to be the young forward's biggest backer. The Lakers' reported asking price, relayed by Sean Deveney of Heavy.com, is high and seems unlikely to be met. And moving Kuzma for an impact player would be tricky, given his small $2MM cap hit.
On the other hand, Kuzma's fit in L.A.'s frontcourt is somewhat uncomfortable, since the club likes to use a traditional center. Playing Kuzma alongside, say, Dwight Howard, LeBron, and Anthony Davis isn't ideal, so if the Lakers can move him in a deal for an impact wing player like Bogdan Bogdanovic or Robert Covington, it might make sense to do so.
I think Kuzma is probably still more likely than not to remain with the Lakers through the deadline, but a trade in the next month wouldn't be at all shocking.
Dewayne Dedmon, C
Sacramento Kings
$13.3MM cap hit; $13.3MM guaranteed salary in 2020/21; $13.3MM partially guaranteed salary ($1MM) in 2021/22

The Kings' offseason commitments to Dedmon ($27.7MM in guaranteed money) and Richaun Holmes ($9.8MM) reflected the club's belief that Dedmon would be the starting center for the foreseeable future, with Holmes playing a backup role. That view made sense — following two strong seasons in Atlanta, Dedmon was a popular mid-level free agent target for teams around the NBA, and the Kings were willing to go even higher than the mid-level to lock him up.
However, it only took four games for new head coach Luke Walton to move Holmes into the starting lineup, demoting Dedmon to a bench role. As Holmes as emerged as one of Sacramento's most valuable contributors, Dedmon has fallen out of the rotation altogether, having been listed as inactive for the team's last three games.
Dedmon has publicly confirmed that he'd like to be traded, receiving a $50K fine for his honesty. But his value is low at this point as a result of his struggles in Sacramento. The Kings are reportedly open to moving the big man, but won't make a deal just to get rid of him.
A shoulder injury suffered by Holmes on Monday night may open up a path for Dedmon to get back into the rotation, which could be the opportunity he needs to show potential suitors he still has value.
Tyler Johnson, G
Phoenix Suns
$19.2MM cap hit; UFA in 2020

Gina Mizell of The Athletic recently identified Johnson as the Suns' most likely player to be dealt in the coming weeks. Unfortunately for Johnson, that's not because contenders will be clamoring to add him to their rotations — it's because of his $19.2MM contract, which will expire in the summer.
It remains to be seen which direction Phoenix will go at the trade deadline, but as long as the team remains in the playoff hunt, targeting an upgrade such as Danilo Gallinari is a possibility. If the Suns were to make a play for someone like Gallinari, who is earning more than $22MM this season, using Johnson's $19MM+ expiring deal as a salary-matching chip would be the most logical move.
While Johnson is a trade candidate due to his contract situation, he may welcome a change of scenery. After starting the season as a regular contributor in Phoenix, Johnson has fallen out of the rotation, appearing in just six games since the start of December.
Revisit the rest of our 2019/20 Trade Candidate series right here.
Photo courtesy of USA Today Sports Images.